The missionaries were forced out of their bus at gunpoint after their visit to an orphanage on Saturday outside Port-au-Prince. The group of 17 was made up of 5 men, 7 women and 5 children. The youngest child who was kidnapped is 2 years old.  The 400 Mawozo gang has a history if kidnappings and murder of their victims.
The 400 Mawozo is a criminal gang based in Haiti's capital city Port-au-Prince. The gang started out as petty criminals by then known as "Texas" and they used to steal motorcycles from Haitians. According to Reuters, the work of gangs has been facilitated by lack of gun control and lots of corruption in Haiti. 
The 400 Mawozo gang is lead by Wilson Joseph who is also known as Lanmo Sanjou translated as 'Death Without Days'. The gang leader is wanted for various charges including theft of motor vehicles, attempted murder, murder and kidnappings. Wilson Joseph appears in videos wearing spider-man mask and holding a gun. 
The missionaries who were kidnapped belong to the Ohio-based Christian Aid Missionaries – a well-funded organization with worldwide operations. The organization had reported revenue of $130 million in 2019. Most of the revenues is generated from donations and the organization has operations in 129 countries across the globe.
After the missionaries were kidnapped, the Christian Aid Missionaries sent out a statement stating "Join us in praying for those who are being held hostage, the kidnappers and the families, friends and churches of those affected'
One expert stated that the 400 Mawozo gang "are going to negotiate" adding that the missionaries "are going to be freed for sure."
The 400 Mawozo gang has now demanded $1 million for every member of the 17 missionaries kidnapped in Haiti.  The captives were forced to leave their bus at gunpoint. An organization that monitors kidnapping in Haiti has stated that they believe the missionaries are being held in the town of Croix-Bouquets. This town is under the firm control of 400 Mawozo gang.
This year alone, the 400 Mawozo gang has abducted dozens of people including foreigners. In the last couple of months the 40 Mawozo gang has been targeting the men of the cloth as well as worshipers.
'The hostages are going to be freed – that's for sure. We don't know in how many days, but they're going to negotiate,' Jean said.
'The 400 Mawozo gang don't want to kill the hostages. Nowadays the gangs, especially in a situation that is a little financially vulnerable, they increase kidnappings to have enough money. 
'So the motive behind the surge in kidnappings for us is a financial one, if the gangs need money to buy ammunition, to get weapons, to be able to function.'  
On Sunday, authorities revealed that they were negotiating with the second in command of the 400 Mawozo gang, Joly 'Yonyon' Germine who is being held in jail.  The 400 Mawozo gang is feared a lot in Haiti especially in the capital Port-au-Prince where they have their operations. The term 400 Mawozo  gang simply means '400 inexperienced men'. The group has been identified to be responsible for over 80 percent of the kidnappings in Haiti.
The 400 Mawozo gang is now infamous for their concept of "collective kidnappings" in which they abduct entire buses or cars. The leader of the 400 Mawozo gang is known for touting the gang's activities on social media.
The 400 Mawozo gang is known for their use of abduction, rape and assassination among other methods to have an iron grip on Haitian streets, power players and businesses. According to the Associated Press, the US authorities are in touch with Haiti government to amicably resolve the case.
The Ohio-based Christina Ministries where the missionaries belong was founded by Amish, Mennonites and conservative Anabaptist groups in 1981. The organization's goal is to "Minister to physical and spiritual needs around the world."
A reliable source indicate that one of those kidnapped posted a cry for help on a WhatsApp group as the kidnapping was taking place.
'Please pray for us!! We are being held hostage, they kidnapped our driver. Pray pray pray. We don't know where they are taking us,' the abductee wrote on WhatsApp.  
'We request urgent prayers for the group of Christian Aid Ministries workers who were abducted while on a trip to visit an orphanage on Saturday, October 16. We are seeking God's direction for a resolution, and authorities are seeking ways to help.'
It is not clear what was the motivation for the victims. Some experts suggest that it might be due to the net worth of their organization. That notwithstanding, Haiti is said to have the highest kidnapping worldwide. Gangs in Haiti target members of the middle class in the hope of getting some ransom.
According to the balance sheet of the Christian Aid Missionaries, the group had assets valued at $87 million as at December 2020. According to Control Risks – a consulting firm- more kidnappings are reported in Port-au-Prince than Bogota and Sao Paulo combined.  
New York Times produced an analysis showing that 628 people were Kidnapped between Jan – Sep 2021 out of which 29 were foreigners. Half of Haiti's capital City, Port-au-Prince is controlled by gangs.
In April, 10 people were kidnapped. Among them was Father Michael Briand, 67 and Sister Agnes Bordeau, 80, both being French citizens.
'We found ourselves in the wrong place at the wrong time,' said Briand, who has lived in Haiti for more than three and half decades. Father Briand is fluent in Creole and he gathered that the members of the gang had not planned to kidnap them.
In the most recent video released by the 400 Mawozo gang, their leader is seen holding a bottle of alcohol and he is surrounded by heavily armed men. In June the 400 Mawozo gang attached a church, open fire outside and torched cars.
Adam Kinzinger, a U.S. Congressman and Illinois Republican told CNN that USA has to find the missionaries and negotiate for their release and not pay any ransom. He also stated that USA has an option of using the police and the military to secure the freedom of the missionaries.
'We need to track down where they are and see if negotiations – without paying ransom – are possible. Or do whatever we need to do, on a military front or a police front,' said Kinzinger
In the past the 400 Mawozo gang has targeted the Haitian middle class such as priests, teachers, small business owners and civil servants as victims of kidnappings. These targets are believed to have enough assets to raise ransom amounts.
'Everyone is concerned. They're kidnapping from all social classes,' Mehu Changeux, president of Haiti's Association of Owners and Drivers, told media.  
'What's happening here concerns the whole society.'   
The kidnapping of missionaries comes days after senior American officials visited Haiti and promised allocation of increased financial resources to the National Police in Haiti to held crush gang violence.
The Haiti police chief met many officials including Uzra Zeya- the USA undersecretary of state for civilian security, democracy and human rights.
'Dismantling violent gangs is vital to Haitian stability and citizen security,' she recently tweeted. 
As a result of gang violence in Haiti, the USA has witnessed increased Haitian migrants come to her borders last month. The migrants were citing growing crime as the main reason for their migration. Haiti is currently facing political uncertainty.
More Haitians are also migrating to Colombia's Necocli which is a popular place for smugglers where people access America using the Darien Gap. The Darien Gap is a 106 kilometres stretch of rain forest between North and South America. The area is undeveloped because of its rough terrain. This is a very risky area for those crossing into the United States of America.
In 2021 alone, an excess of 70,000 people have crossed into USA through the Darien Gap. This is according to Panama authorities. Most of them being Haitians many of who have been living in Brazil and Chile since 2010 earthquake in Haiti.
The border patrol agents were able to encounter nearly 28,000 migrants along the U.S. – Mexico border in 2021. The number of those encountered at this border was just 4,395 only. This is an astronomical rise within a short period of time.
In September 2021, a total of 15,000 people mostly from Haiti camped near a bridge known as Del Rio in Texas.
'It is unprecedented for us to see that number of people arrive in one discrete point along the border in such a compacted period of time,' Said the Homeland Security Secretary Alejandro Mayorkas at the time.
According to the Washington Examiner, border officials are preparing for the inflow of an excess of 60,000 people from Haiti.
Ransom 
The Christian Aid Ministries are trying to have the missionaries released without paying any ransom to the 400 Mawozo gang. 
 Latest news from Haiti reveals that the 17 missionaries are held in a safe house in Croix-des-Bouquests which is under the firm control of the 400 Mawozo gang. 
A reliable source has indicated that most of the victims of the kidnapping are members of the Mennonite Community who live in Haiti. 
The 400 Mawozo gang is not the only criminal gang in Haiti, there are others equally dreaded gangs such as G9 Family and the Allies. 
The 400 Mawozo gang has been accused on several occasions of committing massacres in parts of Port-au-Prince such as Bel-Air, Martissant and Delmas. 
Leader of the 400 Mawozo gang threatens to kill the 17 missionaries if ransom is not paid 
The Hindu.com has reported that Joseph Wilson has promised to kill the 16 Americans and 1 Canadian who were kidnapped by the 400 Mawozo gang is he does not get what he wants. 

"I swear by thunder that if I don't get what I am asking for, I will put a bullet in the heads of these Americans," Wilson Joseph said in a video posted on Social media. 
A total of 18 people were abducted comprised of 16 Americans, 1 Canadian and their Haitian driver. 
During the video recording, the 400 Mawozo gang leader – Joseph Wilson- threatened Haiti's Prime Minister Ariel Henry as well as the national police chief. 
"You guys make me cry. I cry water. But I'm going to make you guys cry blood," Joseph Wilson said. 
Police Chief Resign 
Later after the video from Joseph Wilson was shared on social media, the national police chief, Leon Charles, resigned and Frants Elbe was nominated to replace him. 

Where are the missionaries from? 
The missionaries who were abducted by the Mawozo gang are from Amish, Mennonite and conservative Anabaptist communities in Ohio, Oregon, Michigan, Tennessee, Wisconsin, Pennsylvania in USA and Ontario in Canada. 
Who else was kidnapped on the same day the missionaries were kidnapped? 
According to the office of the Ombudsman in Haiti, a university professor was kidnapped the same day the 17 missionaries were kidnapped. 
Access to education in Haiti 
According to UNICEF, the 400 Mawozo gang, is abducting large numbers of women and children and no place is safe for children because they are kidnapped on their way to school, when at church or when at home. 

Economic Sabotage 
The 400 Mawozo gang is engaging in economic sabotage through blocking fuel distribution terminals and commandeering fuel supply trucks. This has led to shortage of fuel in the areas which they control. Many petrol stations are forced to remain closed. 
The 400 Mawozo gang does not work alone 
According to a former kidnapper at the 400 Mawozo gang who was interviewed by a local radio station, the group is supported by powerful people in Haiti. This means that they do not work alone. 
During the interview the former kidnapper revealed that they use a different number plate for every kidnap that they undertake. 
Secondly, he revealed that the kidnappers work in cahoots with the police. They use a secret code to allow them pass police check points. 
Third, when the 400 Mawozo gang has been sent on a mission to kidnap a prominent person, they also kidnap random people as a side hustle to make extra money without the knowledge of the gang leader. 
Weapons used by the 400 Mawozo gang 
The 400 Mawozo gang has a large arsenal of weapons which they use for kidnapping people. According to a former member, he witnessed them receiving in a single shipment 35 Tevor rifles, numberless M4 rifles and 43 M14 rifles.  They stopped using Uzis instead they use Kalash. 
On the other hand, the security forces do not have strong weapons and they lack funding for better vehicles and motor cycles as well as fuel. This security vacuum has escalated the situation in Haiti. 
The 400 Mawozo gang vehicles 
The 400 Mawozo gang is known to use new and reliable vehicles in their missions because they do not want them to break down when they are getting away from the scene. 
U.S. has seen proof that the missionaries are alive
According to Reuters, the 400 Mawozo gang has provided proof that the 16 American and 1 Canadian missionaries it kidnapped are all alive. The U.S. government sent their officials to Haiti to secure the release of the missionaries. 
Details on efforts being made by the law enforcement have not been in the public domain but the U.S. President Joe Biden is being briefed on a daily basis. 
This incident has directed the global spotlight on the kidnapping problem in Haiti which has worsened with the economic and political crisis in the country. 
The United States of America (USA) would wish to see Haiti move towards elections but a lot needs to be done before that happens. There must be internal dialogue and security situation must first be improved.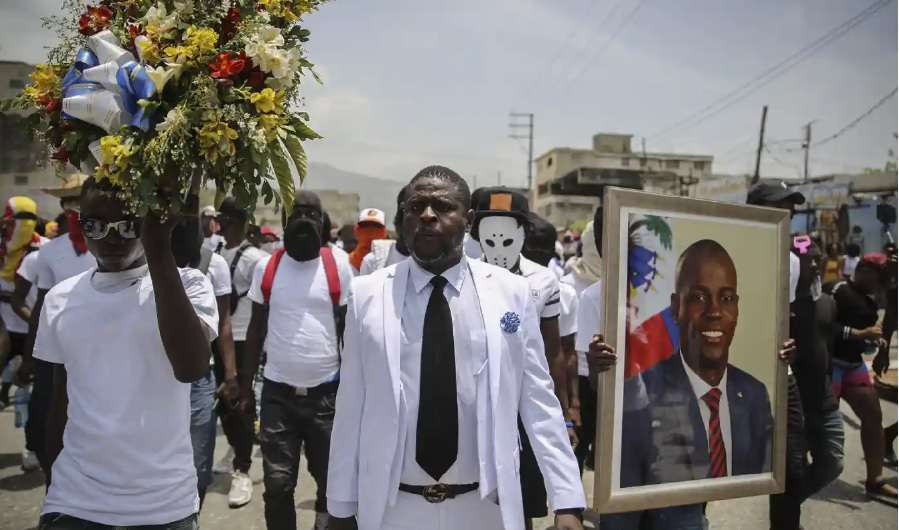 According to Miami NPR, Jimmy Cherizier alias 'Berbeque', the lead of G-9 alliance gang opposes the kind of kidnapping conducted by the 400 Mawozo gang and he called upon the United Nations and USA to cut relations with Haiti government.
GOT a story? RING Kerosi Dotcom on +254 20 78 64348 or EMAIL info@kerosi.com