According to the British Council, Kenya is experiencing a youth bulge. This is a situation where at least 20% of the population is between 15 to 24 years old. The council goes ahead to state that this segment of the population can be an asset if treated well. According to statistics from United Nations (UN), youth and children comprised 61% of the Kenyan population. This was a total of 10 million people were classified as children and youth.
The 2015/2016 Basic Labor force Report estimates that 11.4% of the youth aged between 15 to 34 years old in Kenya are unemployed. The overall unemployment rate according to the same report was 7.4%.
Economic progress in Kenya is largely benefiting the old people. This is contrary to the promises made by UhuRuto in their Jubilee Manifesto 2017. Below are some of the promises they made for the youth:
Improve the quality and quantity of the middle level workforce by aligning the curriculum with the needs of industry, revitalising Youth Polytechnics, completing the construction of the 70 TTIs already under construction and equipping and staffing all TTIs. (page 18);

Young people are the cornerstone of Kenya's future. We have a large pool of talented and entrepreneurial youth who seek opportunities, not handouts. Young people that seek to utilize their talents. Our transformation programme aims to harness this creative energy by providing skills and opportunity to young people to take our country to the next level.

Establish a Youth Development Council to provide coordination of all youth related activities and facilitate the necessary training, skills building and mentoring to link young people with emerging job opportunities.(page 29);

Ensure more opportunities for employment for youth by transforming the National Youth Service to implement commercial projects in Kenya and abroad; (page 29)

Link training and skills building to jobs, we will attach every youth registered through the Ajira Platform, to a specific public project such as the building of roads and housing, irrigation, water infrastructure and electrification projects.

Provide structured support to the creative sectors, which have high potential for youth employment including film music and fashion and bring them into the mainstream economy;

Scale up the "Studio Mashinani" and "Talent pia ni Kazi" where young people can affordably record and expose their creative talent to the market as we harness their talent to create new jobs;

Encourage and support national football clubs, invest in setting up youth teams and provide the sporting facilities required to nurture and develop young talent;

Provide incentives for Integration of youth into agribusiness value chains, including market guarantees and incubation training and scholarships for youth to agribusiness; (page 60)

Build on the Ajira Digital Programme to empower and support our youth to take advantage of online job opportunities. This alone will create over 1 million online jobs in the next five years. (page 67);
Source: Jubilee Manifesto 2017
The youth unemployment debate has been brought to the forefront by the latest appointments of senior citizens (over 60 years which is Kenya's retirement age) to serve at the helm of various state corporations. Esther Murugi, 65, is the former Member of Parliament for Nyeri. She was appointed as a member of National Land Commission (NLC). As required by law, she revealed that she is worth Ksh. 400 million. Unemployed youth were enraged because these opportunities should have been given to youthful people.
Secondly, Mary Wambui, 69, former MP for Othaya Constituency was appointed by the Cabinet Secretary for Labour to serve as a member of the employment Authority. This among other caused a storm on the internet as Kenyans bitterly complained pointing out that there are many young people out there were can do the job perfectly well.
Moody Awori, 91, was appointed as a chairman for Sports, Arts and Social Development Fund Board.
Former Ambassador Francis Muthaura, 72, is at the helm of Kenya Revenue Authority (KRA). There are many others out there all of whom we cannot cover due inadequate time and space.
The famous Kenyans on Twitter (KOT) had the following to say.
Moody Awori is older than 50 million people in Kenya. Only 19,000 people are older than him.

Moody Awori turned 18 in 1946. Most of our parents weren't even born then. pic.twitter.com/MpuilfA2Og

— James Wamathai (@Wamathai) December 5, 2018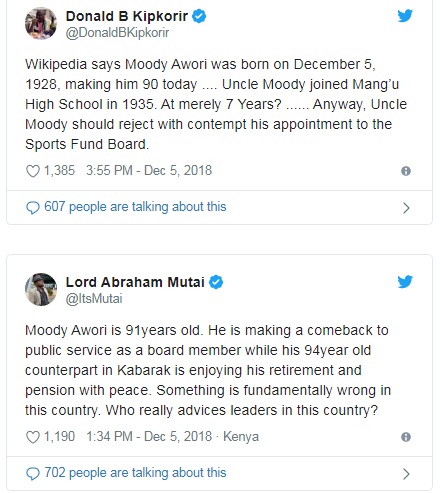 Recommendations
a) Implement all the promises made by Uhuru Kenyatta and William Ruto in the Jubilee Manifesto 2017 to empower and provide job opportunities for the youth;
b) Review and make amendments on curriculum for secondary, tertiary and technical level education, to allow young Kenyans to become a readily employable, skilled workforce.
b) Provide suitable business environment for the youth to establish their own enterprises and hence create employment for other Kenyans;
c) The government should make tertiary education more affordable for a large majority of the youth in Kenya. However, there is need to overhaul tertiary education curriculum because there is evidence that our university graduates are not acquiring the essential skills that they need to apply at the workplace. There is basically a mismatch between the labor market and academia.
c) There is need for closer collaboration between academia and the labor market in order to understand which skills are needed most by the employers instead of churning out graduates who cannot deliver value in the the real world.
d) The state, international development partners and private sector actors should allocate more resources for Research and Development (R&D) to ensure innovative technologies are generated to benefit the Kenyan economy;
e) There is need to hire and train more lecturers, professors and administrators of Kenya's tertiary education institutions. It has been reported that due to inadequate number of professors, we are diluting the quality of education offered by our colleges and universities. The contact hours between professors and PhD candidates is inadequate due to inadequate human and financial resources in Kenya.
When I was a fresh graduate out of university in 2014 I served as a research assistant for an Italian doctorate student who was conducting a research in Nyamusi Division of Nyamira county researching on financial sector deepening and our rural households are using mobile applications to access banking services. I noticed that the student's supervisor traveled all the way from the United Kingdom to come and guide the student in her research. This is the kind of support we are talking about if Kenya is to succeed in the world of academia.
The debate continues…
Share your thoughts about youth unemployment in the comment section below. Give solutions and suggestions to reverse the situation.