Kin Jong Un said that his country is ready in any future clash with the United States and South Korea. Pyongyang is preparing to carry its seventh nuclear test but the US warned that it will be forced to respond.
Kim said that his forces are thoroughly prepared for any crisis. While speaking to war veterans on the anniversary of 1950-1953 war he said that its military is ready to deal with any clash with the West.
 "Our country's nuclear war deterrent is also ready to mobilize its absolute power faithfully, accurately and promptly in accordance with its mission," Kim said
President Yoon Suk-yeol who is the current leader of South Korea took office in May and has vowed to take strong stand against Kim.
The North Korea fired a ballistic missile recently at full range showing part of its military capabilities.
below is a ballistic missile: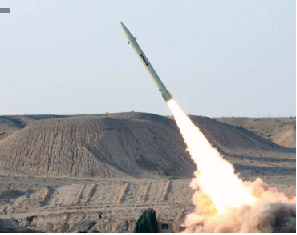 On the other hand, Kim is struggling with the economy due to sanctions over nuclear programs. The fall of its economy has also been caused by the Covid-19 pandemic.
North Korea and the United States have been fighting on who is supreme over the other and Kim never puts his hummer down, he said he is set for anything.
GOT a story? RING Kerosi Dotcom on +254 784 10 46 63 or EMAIL info@kerosi.com