The Football Association of Zambia has confirmed to CAF their intention to resume their domestic football in June, subject to approval by health officials in the country.
Football activities in Zambia were suspended on March 20th to minimize the spread of coronavirus.
CAF had set Tuesday as the deadline for member associations to confirm whether they will continue or cancel their domestic seasons.
With 10, rounds of games remaining, any of the top 5 teams in the Zambian League could win the title as they are separated by a one point margin.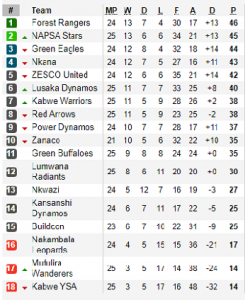 According to FAZ President Andrew Kamanga, Football Association of Zambia wants the champion to come from the pitch, rather than a decision from the board.
''We want the champion to come out of the pitch, rather than a boardroom decision.'' Kamanga told BBC Africa.
''We are mindful of the corona challenge – we would not want to compromise the lives of footballers, officials or any other people involved in the game. Ultimately the overriding point is there is no life worth losing on account of football.'' He added.
As at now, 7 African countries have ended their seasons prematurely due to Covid-19.
Read More:
Bundesliga to resume on May 15th
Coronavirus: Liberia Football Federation end football season
Coronavirus: Ethiopia cancels all football competitions
FKF ends Kenya Premier League season, confirms Gor Mahia as champions