H5 Zoom Handy Recorder User Review
Features highlight
Uses standard rechargeable or alkaline batteries
Low-cut filtering, limiting and compression
Trim editing, normalize and divide
Protective roll-bar to safeguard gain controls when the device falls accidentally.
Plug-in power
Variable play-back speed
15 hours of operation when using alkaline batteries
Can be mounted to DSLR or video camera
Comes with detachable XYH-5
Voice memo
Records directly to SD cards up to 32 GB
4-track recording simultaneously
Plug-in power
Each input has a dedicated manual gain control
A/B loop playback
Auto-record and pre-record features
MS recording
LCD display screen
Can record MP3 or WAV formats
Introduction
The H5 Zoom handy recorder produces cleaner, louder and closer sound. At the top there are two unidirectional condenser microphones. These have been set at an angle of 90 degrees.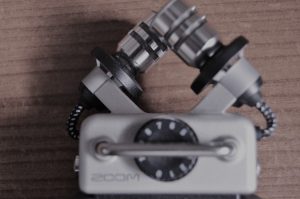 The body of H5 Handy Recorder is made of a rubber body to minimize handling and vibration noises.
This is the best recorder for production of podcast, location videography and audio broadcast.
H5 Handy Recorder is capable of handling situations where there is extremely loud sounds up to -140 dB SPL.
Rock Bands
This H5 Handy recorder is perfect for recording live bands and for gathering electronic news.
Accessories
Shotgun
When you use the H5 Handy recorder with SGH-6 Shotgun, you produce high-quality sound making your recorder a perfect audio device for video, theater and film work.
The other accessories which can be used alongside the H5 Zoom Handy recorder. This includes: Hairy windscreen, remote controller, AD USB-type Adapter.
Hardware
I real love the hold button switch which disables all the front panel buttons. This way I ensure that I do not accidentally operate the recorder and hence interrupt recording.
Further, I sometimes attach the recorder to the camera strap using an optional Hot Shoe mount.  I just mount it on top of my DSLR.
I was impressed by the fact that I can connect the H5 Handy recorder to both external microphones and line-level equipment such as electronic keyboards, mixers, electric guitars and other electronics.

There are three gain control knobs each dedicated to a particular H5 input.
There is a dedicated Line Out with its own adjustable volume. This is what makes it possible for me to send audio directly to my video camera. In addition to this, there is a headphone output. I monitor the quality of sound recorded using these headphones.
I also make use of the in-built speaker when I want to play back what I've already recorded.
When I am recording sound directly to my laptop, I use the H5 recorder as an audio interface.
Power and Storage
I always use two AA batteries to power my device. It can use either the rechargeable NiMH or alkaline ones. The alkaline batteries can last up to 15 hours of continuous recording.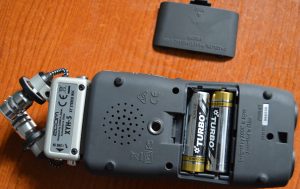 I am planning to acquire an AC adapter so that I can use the H5 without batteries.
Storage
The H5 records directly to SD and SDHC cards. It has a maximum capacity of 32 GB.  Currently, I am enjoying the services of a 2GB SD card which came with the device. It can last for one hour when I am recording stereo 24-bit/96kHz WAV files or 14 hours of stereo 320 kbps MP3 files.
Software
The H5 operates in two main modes: multi-track (4 track recording) and stereo for two-track recording.
There are two main file formats are: MPs and WAV.
MP3 files are much smaller and hence easier to share on social media sites.
The signals produced can be processed by compressing or using low cut filter. The later helps in doing away with wind noise and all types of low frequency rumbling.
Editing
You can download the Zoom H5 software for Steinberg's Cubase LE music Production software as well as a WaveLab LE audio editing software.
READ MORE: This man set up a car website, it is now worth millions of Pounds