Manchester United head coach Erik ten Hag has revealed why Casemiro has been starting from the bench since join the Red devils from Real Madrid.
According to the manager, Scott Mctominay has been performing well since his arrival. Maybe he doesn't want to give up his position.
Read more: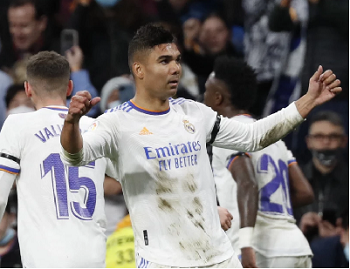 He said: "On the day we signed him, we started to win and it's about the team.
"The team is doing really well, it's not against Casemiro, it's for Scott McTominay, who performed great in the team and we got into a run.
"But I'm sure it will be important for us in the long and short-term, he will find himself in the team but it has to come in a natural way."
McTominay's performance was great in their Liverpool and Arsenal win. He also played key roles in their Southampton and Leicester win. However, the derby was different. He had to give way for Casemiro at the second half.
Casemiro signed for United at £70 million in the last summer transfer. He is one of the experienced mid-fielders because he played a major role in Real Madrid's lifting of major trophies.
Ten Hag introduced the Brazilian midfielder in the second half of the match but had less options to save the capsizing boat.
Casemiro and his former Real Madrid star Cristiano Ronald were watching from the bench only the Ronaldo watched the match. Meanwhile, Ten Hag is under criticism for not including the Portuguese star in the derby.
GOT a story? RING Kerosi Dotcom on +254 20 78 64348 or EMAIL info@kerosi.com