The Independent Electoral and Boundaries Commission (IEBC) has confirmed of safe and secure technology in elections.
Some of the technologies that will be employed include the results transmission system (RTS), Kenya Integrated Elections Management system (Kiems) kits, electronic voter identification (EVI) and electronic voter verification (EVV).
Justus Nyanga'ya, one of the commissioners in the IEBC said that the role of the Kiems kits is to ensure that only registered voters are allowed to vote.
Justus said that the voters will be identified bio-metrically first and if the bio-metric identification fails, then the presiding officer will authorize the use of alphanumerical search.
 "The systems ensure that a voter is allowed to vote only once on the polling day, as well as curbing against impersonation, ensuring that only those who registered to vote at a particular polling station are allowed to vote," Justus said.
He also added that the presiding officers in the polling stations will be given a unique password that they will use to operate the kit. This ensures high level of security. The kit will also be replaced if it fails.
"It is only in the event of total failure of technology that the commission as guided by law will be required to suspend or terminate the use of technology and notify the public and stakeholders of the suspension and of the measures put in place," he said.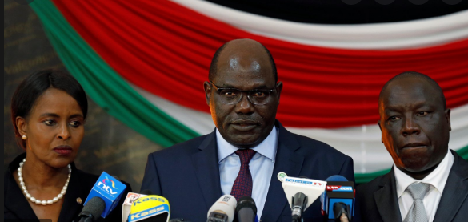 GOT a story? RING Kerosi Dotcom on +254 784 10 46 63 or EMAIL info@kerosi.com