Russia's ambassador to Poland was covered with red paint and objects were thrown at him as he lay a wreath at the memorial to Soviet soldiers in Warsaw, Poland. This happened on the morning of Monday May 9.
Ambassador Sergei Andreev was cornered by protesters as he was marking the Victory Day at the Soviet Military ceremony in Warsaw. A crowd of protesters that was carrying Ukrainian flags blocked the ambassador from entering the cemetery and the group shouted "fascist" before they started throwing things at him.
The ambassador as well as his security team were hit by things thrown at them and finally the demonstrators threw a bad of red paint on his face.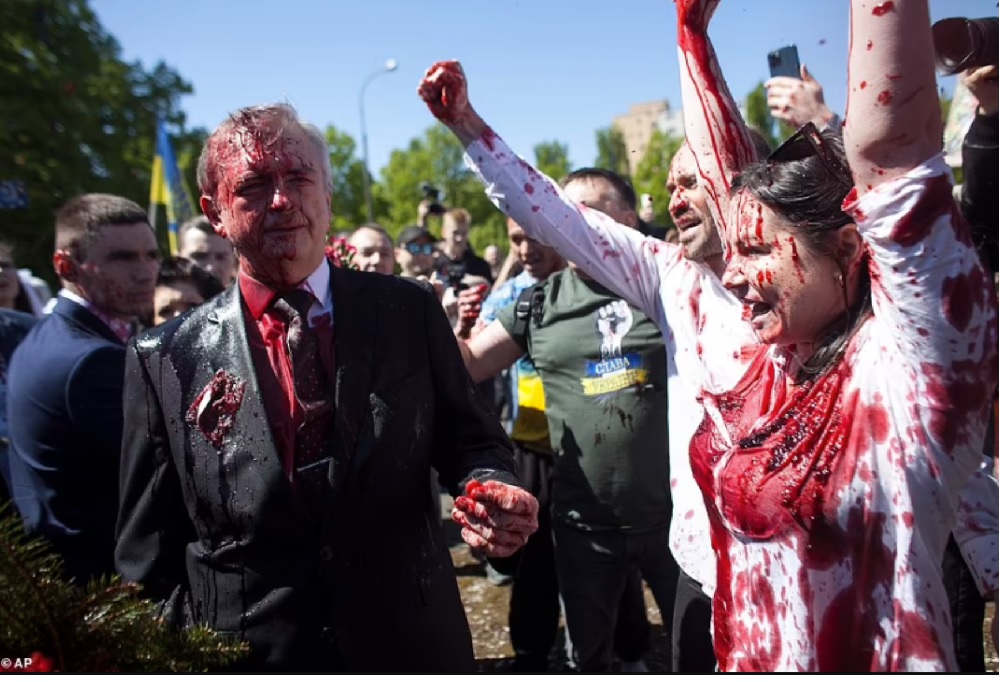 The ambassador and his entourage were escorted away by the police. This scenario is a testament of the tension that has been building between Russia and the former Soviet Union states since the invasion of Ukraine.
Poland has proceeded with their supply of weapons to Ukraine. This includes sending over 200 T-72 tanks to strengthen the country's armed forces response to attacks from Russia.
Russian state media quickly reported the red paint smearing incident in Warsaw as growing evidence of anti-Russian sentiment in the Western World. Kremlin insists that these events are motivated by Nazism.
Maria Zakharova, Moscow's foreign ministry spokesperson stated that 'fans of neo-Nazism have once again bared their faces, and it is bloody,' on her Telegram channel.
'The demolition of monuments to the heroes of the Second World War, the desecration of graves, and now the disruption of the flower-laying ceremony on a holy day for every decent person prove the already obvious – the West has set a course for the reincarnation of fascism,' she messaged to followers.
GOT a story? RING Kerosi Dotcom on +254 20 78 64348 or EMAIL info@kerosi.com