Mara Game Reserve is a Cash Cow for Narok County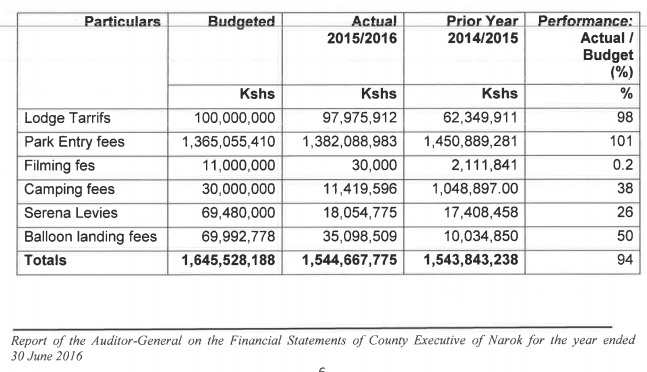 Mara Game Reserve, a Local Revenue Cash Cow for Narok County
Narok County collected Ksh. 1.75 billion in local revenue during financial year 2015/2016. Out of which Ksh. 1.54 billion or 88.1% of the total revenue was collected from Mara Game Reserve.
This means that only Ksh. 208.2 million was collected from other sources such as:
a) single business permits (Ksh. 17.1 million);
b) Cess revenue (Ksh. 81.6 million);
c) Markets and slaughter Fees (Ksh. 9 million)
d) House Rents (Ksh. 420,950);
e) Conservancy & Solid Waste (Ksh. 4.75 million);
f) Vehicle Parking Fees (Ksh. 2.77 million);
g) Agricultural Produce Cess (Ksh. 19.33 million);
h) Plot rates (Ksh. 48.40 million);
i) Miscellaneous Income (Ksh. 159.14 million);
j) Mara Game Reserve (Ksh. 1,544 million)
This is a clear indicator that there is plenty of traffic of foreign and local tourists at Mara Game Reserve in Narok County. This is a place I'm planning to visit soon.
Narok County government collected local revenue from Mara Game Reserve as follows:
Lodge Tariffs – Ksh. 97.97 million
Park Entry Fees – Ksh. 1,382,088,983
Filming Fees – Ksh. 30,000
Camping fees – Ksh. 11.41 million
Serena Levies – Ksh. 18.05 million
Balloon landing fees – Ksh. 35.09 million
The above revenue streams added up to Ksh. 1,544,667,775. This again reveals to us that the largest revenue stream at Mara Game Reserve is Park Entry Fees which grossed slightly over Ksh. 1.3 billion in FY 2015/2016.