Angel Di Maria's wife, Jorgelina Cardoso, has revealed that she was never happy during her stay at Manchester. Comparing Manchester to Spain, Jorgelina claimed that Manchester was horrible.
Angel Di Maria made a move from Real Madrid to Manchester United in 2014. He started the season on fire but after suffering a hamstring injury in November, his form reduced significantly. He even got himself dropped from the first eleven.
Jorgelina had opposed Di Maria from joining Manchester United at the fast place but he insisted. Di Maria found a way to convince his wife to accept the move. He told her that in Manchester, they could end their financial problems.
At Manchester, Di Maria could earn double the salary earned at Real Madrid. But besides the huge amount of money they were bagging, her wife was disgusted staying at Manchester.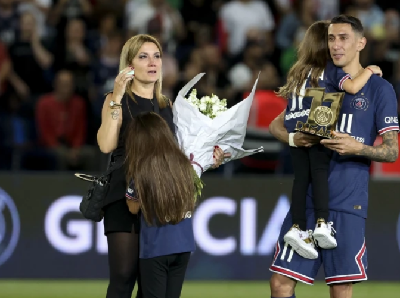 Speaking to LAM, a TV in Argentina, she said that Manchester was horrible.
Jorgelina said: "Angel came to me one day and said: 'Look at this proposal from Manchester United'."
Read more:
"I didn't want to go, I told him to go alone. 'Let's go both of us', he replied. It was a lot of money, more than the Spaniards had offered."
"So, we went. If you work in a company and someone offers you double the salary, you go running."
"We were friends with Gianinna Maradona, Sergio Aguero's wife, and we travelled to Manchester on vacation for a year."
"It was always horrible! We came home and I said: 'If you're ever transferred, make sure it's anywhere in the world but England.'"
When Jorgelina was asked why she disliked Manchester this much, she said that all people in the that city are all weird.
she said:
 "I didn't like it at all… I can tell you.
"People are all weird. You walk around and you don't know if they're going to kill you."
"The food is disgusting. The women look like porcelain."
"Angel and I were in Madrid, at the best team in the world, perfect food, perfect weather, everything was perfect. And then came United's proposal…"
"I told him 'no way, no way', but he kept saying we will be a little more financially secure and we have to go. We fought about it… We try to be closer when things go wrong."
"I don't blame him for going there. It was horrible, so horrible. I just told him, 'Darling, I want to kill myself, it's night time at two o'clock.'"
Jorgelina also claimed that their house was targeted by robbers. Considering the theft case and Di Maria's declining form at Manchester, the family moved to Paris after Di Maria's transfer to Paris-Saint German.
Meanwhile, Di Maria is on move to join Juventus from Paris-Saint German. He claimed that he involves the family on every decision he make.
"I always thought of myself and my family. I make the best choice for everyone – my two daughters, my wife and myself." Angle Di Maria said.
Read more:
GOT a story? RING Kerosi Dotcom on +254 784 10 46 63 or EMAIL info@kerosi.com