I spent much of my time today at Laini Saba Ward in Kibera slums in Kenya interacting with local residents who were debating on the progress of development projects in the ward. 
This meeting was also attended by Charles Wesambura, the Laini Saba Ward Administrator Kibera slums in Kenya. Ward Administrators are mandated to coordinate and supervise administrative functions at the ward level. More importantly, ward administrators facilitate public participation forums on development of plans and policies at the ward level. 
During the Financial Year 2018/2019 Laini Saba Ward in Kibera slums in Kenya was allocated funds for only one project. That is Biashara Street road.
However, during the current financial year 2019/2020, only AMREF grounds has been allocated allocated Ksh. 20 million. In the recent past, this area was a dumping ground by the residents residing nearby. 
Stray dogs  
The problem of stray dogs is real at Laini Saba ward in Kibera slums in Kenya. However, residents reported that Nairobi County government has been conducting vaccination campaigns by offering free anti-rabies vaccines. From what I gathered, it seems there are many stray dogs in the area and the county should do something about it. 
Outrageous Claims 
In my travels for work around the country, I've always heard real outrageous stories being told about public finance practice. One such story arose during the meeting at Laini Saba Kibera slums in Kenya. 
Read More: Kibra MP Ken Okoth passes on at Nairobi Hospital
A participant mention that he was not happy considering that some Ksh. 11 million had been allocated towards feeding pigs which were non-existent. This claim needs to be investigated further to verify its authenticity. 
Discrimination through public budgets 
The idea of discrimination cropped up once again during the Laini Saba meeting in Kibera slums in Kenya. According to various residents who spoke, Laini Saba is discriminated/segregated based on tribal lines. For instance, they mentioned that at Laini Saba, the Kikuyu and Kamba communities are the majority while Luos and Luyhas are the majority in the neighbouring Shimoni ward.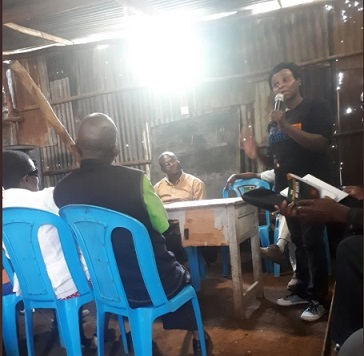 They argued that Laini Saba experiences a lot of power disruptions while Shimoni people enjoy continuous access to electricity. 
Call for establishment of KPLC Office at AMREF Grounds 
Laini Saba ward residents Kibera slums in Kenya called upon Kenya Power and Lighting Company to establish an office at AMREF grounds to cut make their services readily accessible. The residents further indicated that Langata is too far from their homes. 
Western Bridge/Nyando bridge 
Nyando bridge which is also known as Western Bridge is a project that the Laini Saba residents would like to be taken up by Nairobi County administration. It's unfortunate that some local crooks are already taking away metal parts from the bridge to the scrap metal dealers. 
Poisonous garbage 
It was saddening to hear that every year numerous children aged 3 years and below dies out of putting the toxic garbage into their mouth. This report was reported by G.K right from the Chief's Camp at Laini Saba Ward in Kibera slums in Kenya. 
Please, subscribe on our YouTube Channel: Kerosi TV.