The High Court of Kenya has made court orders for Inspector General of Police (IG) and Director of Criminal Investigations (DCI) to appear before High Court and bring along General Dr. Miguna Miguna. The Inspector General was given an alternative of releasing Dr. Miguna Miguna today if he doesn't want to appear before court. The government was accused of contempt of court for refusing to release the opposition politician held in custody.
Watch the Milimani High Court proceedings here. 
Updates on this story: 
On 6 Feb 2018, Dr. Miguna Miguna was presented before a magistrate court in Kajiado instead of Milimani High Court as Directed by Judge Luka Kimaru on 5 January. Miguna Miguna's lawyers Dr. John Khaminwa and Edwin Sifuna have made an application to have the case heard in Nairobi instead of Kajiado. The DCI and Inspector of Police now will not be arrested for contempt of court.
High Court directed the Director of Public Prosecutions to appear before it to ascertain whether Miguna Miguna has been charged as reported.
Meanwhile at Milimani law courts, police lobbed tear gas canisters allegedly to disperse NASA supporters.
According to a charge sheet shared on Twitter by Ramogi FM, Miguna Miguna was charged with "organizing a public meeting at Uhuru Park without notifying the Officer Commanding Central Police Station in Nairobi."
He was also charged for being a member of outlawed National Resistance Movement (NRM).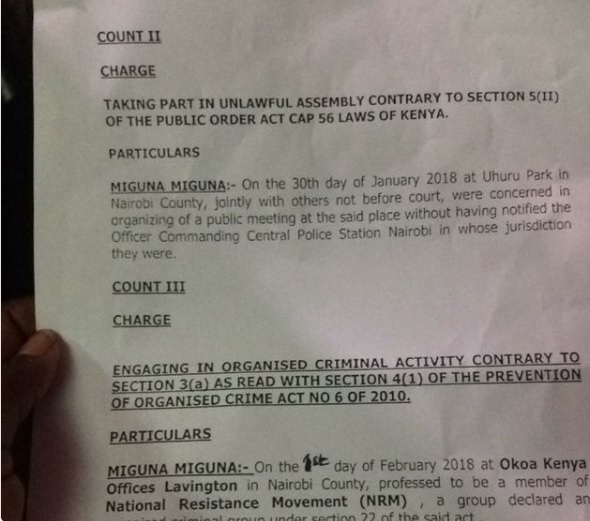 "General" Miguna Miguna refused to take plea on the above charges. According to Citizen TV website, he insisted that his case must be heard by Judge Luka Kimaru of High Court Nairobi.
Dr. Miguna Miguna was allegedly released from police custody but his lawyers have reported that he is missing. After the court ordered release of Miguna Miguna, supporters and lawyers vowed not to leave the court grounds until they see the NRM 'general.'
Elsewhere in Kisumu and Homa Bay counties, there were protests against Miguna Miguna's being held in custody. The protesters lit born fires and barricaded the roads in Obunga and Nyalenda areas of Kisumu County.
In Ahero where Miguna Miguna  comes from,  one person was shot dead during the protests. In response, Kericho town residents blocked the road harassing motorists and breaking motor vehicle windows.
The Ahmed Nassir (The Grand Muller) said that in his opinions the government should have ignored the swearing in of Raila Odinga on 30 January, 2018.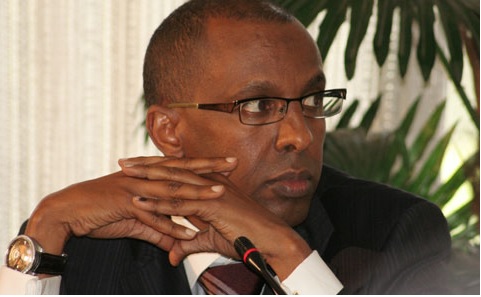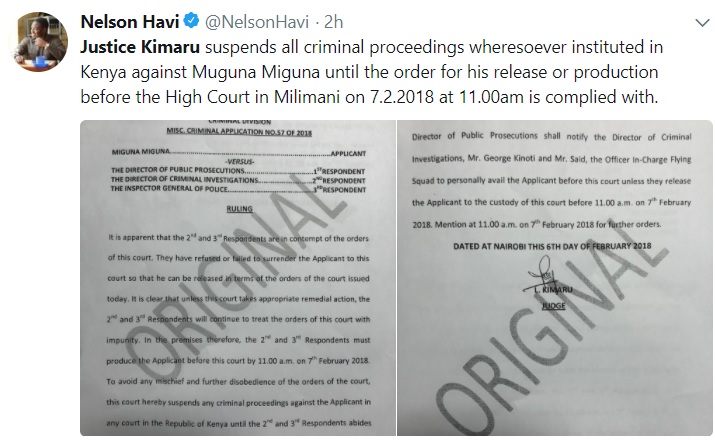 DEPORTATION TO CANADA
Dr. Miguna Miguna lawyer, Nelson Havi has reported through his Twitter handle @NelsonHavi  that his client was forced into a KLM flight and deported to Canada. Many people are wondering on how Kenya government can deport her own citizen.
Article 16 of Kenya Constitution 2010 allows dual citizenship. It states that, "a citizen by birth does not lose citizenship by acquiring citizenship of another country." 
Miguna Miguna has several options: a) he can refuse to board the flight b) travel to Canada and continue with his struggles from abroad.
Photos of Miguna Miguna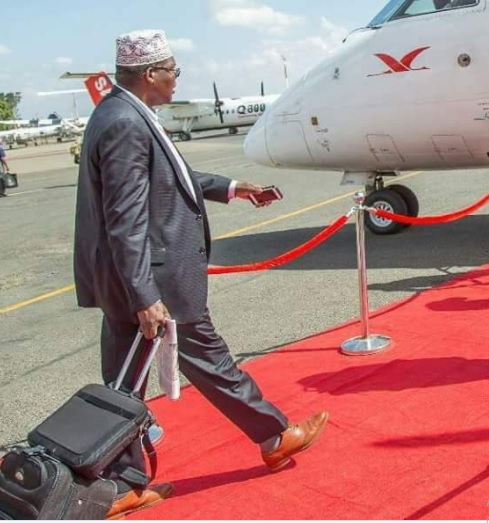 RIGHTS OF ARRESTED PERSONS 
Article 49 of the Constitution of Kenya 2010 provides the rights of Arrested Persons. The articles provides that when you are arrested you have a right to:
a) Informed promptly on reasons for the arrest
b) the right to remain silent
c) consequences of not remaining silent;
d) to communicate with an advocate, and other persons whose assistance is necessary;
e) not to be compelled to make any confession or admission that would be used in evidence against the person;
f) to be held separately from persons who are serving a sentence;
g) to be brought before a court as soon as reasonably possible but not later than 24 hours after being arrested;
h) If 24 hours ends outside ordinary court hours, or on a day that is not an ordinary court day, the end of the next court day.
i) at the first court appearance, to be charged or informed of the reason for the detention continuing or to be released; and
j) to be released on bond or bail, on reasonable conditions, pending a charge or trial, unless there are compelling reasons not to be released;
I hope now you know your rights as a citizen of Kenya.
GOT a story? RING Kerosi Dotcom on +254 784 10 46 63 or EMAIL info@kerosi.com