EAC Slogan: "One People, One Destiny"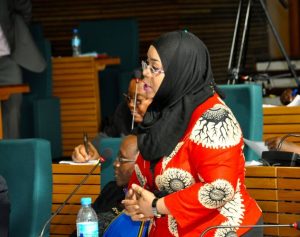 On 25 August, 2016 there was a heated debate at the East African Legislative Assembly (EALA) in Arusha Tanzania calling for the adoption of Swahili as one of the official languages. This will call for the East African Community (EAC) Summit to make amendments on the Treaty that established the EAC.
There are also calls to the Council of Ministers to allocate adequate resources to the EAC Kiswahili Commission to make it effective in performing its mandate. This Resolution was moved by one Hon Abubakar Zein and seconded by Hon Abdullah Mwinyi and Hon Shyrose Bhanji.
Language is regarded by many as a vessel of identity, values, meaning of life and human philosophy. The argument at EALA was that Kiswahili is one of the fastest growing languages in Africa. It is great that the African Union has already adopted Kiswahili as one of the official languages.
Many analysts argue that adoption of Kiswahili as an official language will go a long way in promoting integration in the region.
Hon Abubakar Zein believes that if Kiswahili is made an official language, then it is likely that more East Africans will be engaged in the EAC affairs in addition to promoting the African culture.
Kiswahili has its origins in the bantu language and it is quite flexible. The legislation received wide acclaim among the legislators. Hon Martin Ngoya stated that Kiswahili is a uniting factor because it is widely spoken in East Africa.
The Kenyan representative Hon Joseph Kiangoi said that it is a high time that East Africans become proud of their culture.
 "Let us embrace Kiswahili, it is part of our culture", Hon Joseph Kiangoi
The Wikipedia state that Swahili is closely related to Shikomor (Comorian language) spoken in Shimaore – Mayote Island.
Let us all promote our culture. If you support this move say so in the comments. We will be happy to have a conversation around it.