Ministry of sports on Tuesday suspended all foreign sporting assignments for a month as the deadly coronavirus continues to spread.
The ministry wrote a letter to all sport federations saying it was a precautionary measure to combat the spread of the coronavirus.
This comes barely a week after the Health Ministry postponed all meetings of International nature in the country for the next one month.
''The Ministry wishes to inform you that there will be no more travel for International events until further notice and notably for the next one month,'' Said part of the letter.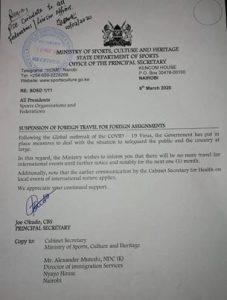 Various sporting activities are set to be affected.                                                     Kenya's away game to Comoros Islands on March 31st for 2021 Africa Cup of Nations qualification is among the events affected by the communique from the ministry.
Football Kenya Federation (FKF) had earlier written to Confederation of African Football (CAF) asking for postponement of the Home game on March 25th due to the fear of spread of the coronavirus.
Read More:
Nzoia Sugar FC sack Collins Omondi after a poor KPL run
Sergio Aguero suffers a thigh injury in the Manchester Derby