Arsenal drew 2-2 with Tottenham Hotspurs in a premier league match that was played at the Emirates Stadium this evening. The match attracted over 60,000 fans.
Tottenham's Christian Eriksen opened the scoring in the 10th minute and Harry Kane doubled the lead in the 40th minute. Alexandre Lacazette scored Arsenal's first goal of the game in the 45th minute. The game headed into halftime with Tottenham Hotspurs leading 2-1.
Arsenal levelled the scores in the 71st minute through Gabonese forward Pierre-Emerick Aubameyang.
Arsenal and Tottenham Hotspurs are clubs that are situated at the northern part of London. This had led to this fixture being dubbed as the ''North London Derby''.
Arsenal will face Watford FC in their next Premier League fixture at Vicarage Road on 15th September 2019.
Tottenham Hotspurs will play Crystal Palace in their next Premier League fixture on 15th September 2019 at the Tottenham Hotspur Stadium. This will be another London derby.
The todays draw Leaves Tottenham Hotspurs at 9th place in the premier league table with 5 points while Arsenal are placed 5th with 7points.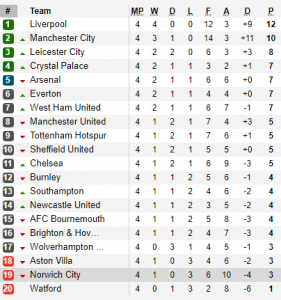 In another Premier League match that was played today, Everton beat Wolverhampton Wanderers 3-2 at the Goodison Park Stadium. 
Read More: