Former Barcelona manager Luis Enrique has been re-appointed as Spain manager, five months after resigning due to personal reasons.
Luis Enrique stepped down as Spain manager in June to spend time with his 9 year old daughter Xana who was sick with Bone cancer, and afterwards died in August.
In a press conference held on Tuesday, Spanish Football Federation President Luis Rubiales confirmed Luis Enrique's reinstatement as Spain National team manager.
"Today we can confirm that Luis Enrique will return to his position. We have acted sincerely, we have not deceived anyone. Everyone knew that if Luis Enrique wanted to come back he had the doors open. I've spoken to the captains and some players and explained everything to them. We have kept our promise.'' Said Rubiales.
https://twitter.com/mundodeportivo/status/1196753900084305922
The president also revealed the new manager's contract "will continue to the Qatar World Cup," in 2022.
Luis Enrique was replaced by his assistant Roberto Moreno. Moreno won four out of six games in charge and has helped Spain to qualify for Euro 2020.
After Monday's 5-0 win over Romania at the Wanda Metropolitano Stadium in Madrid, Roberto Moreno left the pitch crying and did not talk to the media. It is understood he was disappointed not to be appointed Spain manager.
Spanish Football Federation President Luis Rubiales had this to say about Roberto Moreno:'' Robert Moreno told us he didn't want to go on as soon as he found out we were evaluating Enrique's return. We are very happy with Robert's work, but the leader of this project is Luis Enrique. We've always said it. So on Monday we received a message from Robert telling us he wanted to agree to his departure. We would have liked to have done it differently, but it wasn't our fault."
The 42 year old previously worked as an assistant to Luis Enrique at Roma, Barcelona and Celta Vigo.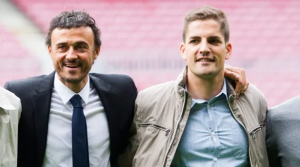 Luis Enrique had been linked with the Arsenal manager job, with reports claiming the 49 year old Spaniard was a potential contender to replace Unai Emery, who has been under pressure after a series of poor results.
It was reported that Arsenal head of football Raul Sanllehi had previously sounded out Enrique, with the former Barcelona boss initially wanted to replace Arsene Wenger in 2018.
Read More:
Leonardo Bonucci renews contract at Juventus
Luis Enrique has been re-appointed as Spain manager