All Mumias Sugar Company workers have been sacked just a month after the Company went into receivership under KCB.
''Consequent to the company being placed under receivership, all employees contracts stand terminated from the date of receivership'' Said a letter dated 5th of November.
The company will compensate all the affected employees as per the law.
''Any payment to the affected employees shall be dealt with in accordance with the provision of the law.'' Read the section of the letter.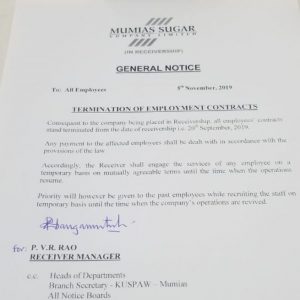 New workers will be hired temporarily. They will keep the company running and hiring priority will be given to the sacked employees. The Receiver shall engage the services of any the services of any employee temporarily on agreeable terms until operations resume.
Read More:
KEBS suspends 7 peanut butter brands