Bundesliga Champions Bayern Munich have relieved Niko Kovac of his duties as the Bayern Munich Head Coach. This comes after Bayern were thrashed 5-1 by Eintracht Frankfurt on Saturday. It was Bayern Munich's second defeat in 10 Bundesliga games this season.
The former Eintracht Frankfurt manager took over from Jupp Heynckes at the start of last season and was able to guide the club to a domestic double in his only full season in charge. He left the club on Sunday evening.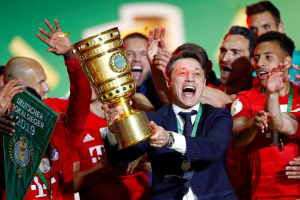 Bayern Munich are currently at fourth position in the Bundesliga table with 18 points after 10 matches. They are four points behind league leaders Borussia Monchengladbach.
Bayern Munich have just won one of their last four Bundesliga games under Niko Kovac, suffering loses against Eintracht Frankfurt and Hoffenheim and drawing against Augsburg.
Bayern Munich have confirmed that Hansi Flick will take charge of the club's UEFA Champions League group stage match against Greek Club Olympiacos on Wednesday and also the Bundesliga tie against Borussia Dortmund on Saturday.
The 48 year Old former Croatia international won 45 out of 65 games in charge of Bayern Munich, but the 5-1 loss at the hands of Eintracht Frankfurt becomes the club's heaviest defeat in a period of 10 years.
Bayern Munich have confirmed that the decision to part with Niko Kovac was reached after a mutual discussion with him.
Bayern Munich CEO Karl-Heinz Rummenigge said: ''The perfomances of our team in recent weeks and the results have shown that there was need for action. We had an open and serious discussion with Niko based on that and came to the mutual decision that Niko Kovac is no longer the Head Coach of Bayern Munich FC. We all regret this development. I would like to thank Niko Kovac for on behalf of Bayern FC for his work, particularly for last season's double win.''
Niko Kovac wished the club the very best.                                                             
''The results and the way we've played lately led me to this decision. My brother Robert and I would like to thank FC Bayern Munich for those past 18 months. During that time our team won the Bundesliga, the Super Cup and the DFB Cup. It was a good time. I wish the Club and the team all the very best.'' Said Kovac.
Read more: