Former Manchester United and Bayern Munich midfielder Bastian Schweinsteiger has announced his retirement from football at the age of 35.
He announced on Tuesday that that he'll end his football career when the American MLS comes to an end after his team Chicago Fire failed to qualify for playoffs.
Bastian Schweinsteiger has enjoyed a distinguished football career, spending 13 years at Bayern Munchen and 18 months at Manchester United before moving to American MLS Side Chicago Fire.
The German also played for the national team between 2004 and 2016 making a total of 121 appearances. He was part of the German squad in that won the FIFA World Cup in 2014. He helped Germany reach two other World Cup semi-finals, the final of Euro 2008 and the semi-finals of Euro 2012 and 2016.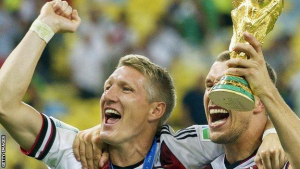 He won 8 Bundesliga titles at Bayern Munchen.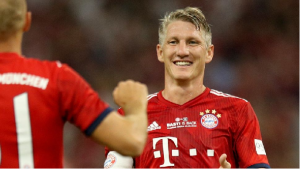 He however failed to adapt to the Premier League at Manchester United before moving to America.
Many have paid tribute to the Schweinsteiger.
Wayne Rooney, who also plays in the MLS paid tribute to his former teammate on twitter.
"Congratulations to my good friend Bastian Schweinsteiger on an unbelievable career. It was a pleasure to get to play alongside you. Good luck in your retirement #Legend," he tweeted.
The pair played alongside each other for two seasons at Manchester United under the management of Louis van Gaal and Jose Mourinho before Schweinsteiger moved to America to play his final two years at MLS club Chicago Fire.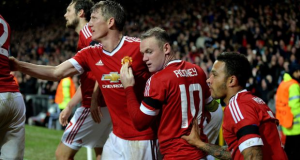 Wayne Rooney later left for Everton from Manchester United before reuniting with Bastian Schweinsteiger at the MLS. Rooney plays for MLS Club DC United.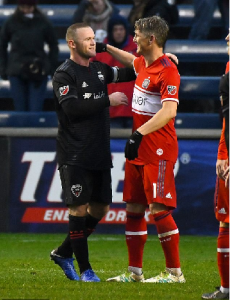 Bayern chief executive Karl-Heinz Rummenigge said "the doors at Bayern are always open" to their former player.
"A great career is coming to an end. Basti has won everything there is to win in world football," he said.
"Basti has meant so much to our club," said Chicago Fire chairman Joe Mansueto. "It was an absolute pleasure to watch him play.
"He is one of the greatest players in German history. We will always have a place for him with the national side. You could always feel his will to win. He was a great player and a great personality." Said Joachim Low, the current Germany manager.
According to Ottmar Hitzfeld, who was first Schweinsteiger's first Bayern Coach, Schweinsteiger will be remembered as one of the Germany's greats because he was symbolic. Hitzfeld gave Schweinsteiger his Bayern debut as an 18 year old in 2002 and feels it was an honor to work with someone who went on to become a Germany icon.
Read More: