DJ Khalid makes most of his millions from live shows. In order to earn his $67 million in two years, he played music in 50 gigs. 
DJ Khaled worked as opener for Beyonce and Jay-Z during the Run II Tour. 
DJ Khalid is one of the highest earning stars. He is ahead of starts such as Eminem who is ranked No. 6 and earned $50 million and Kendrick Lamar ranked No. 8 and earned $38.5 million during the same period; J. Cole was ranked No. 11 with $31 million in earnings and Nicki Minaj ranked No. 12 with a total of $29 million. 
DJ Khaled was born in 1975 as Khaled Mohamed Khaled. He was brought up in Florida where he worked as a DJ and a producer. 
Right from the beginning he had fans from all over the world including places such as Jamaica.
He was found of flying from Miami to Kingston in Jamaica for weekend getaways. 
For a period of 10 years after he has a perilous experience flying on a small plane, he avoided flying. For that time, he invested in high-end cars such as Rolls Royces operated between his homes in California and Florida.
DJ Khalid also crisscross the country using a tour bus just like John Madden did before him. 
He would bear the 17-hour road trip from Miami to New York. He remembers that his trip to Los Angeles was the toughest one having lasted for two days. 
DJ Khalid was extremely productive. He had a studio on his bus and had a great work ethic during that time. During the decade when he avoided flying, he released 9 studio albums.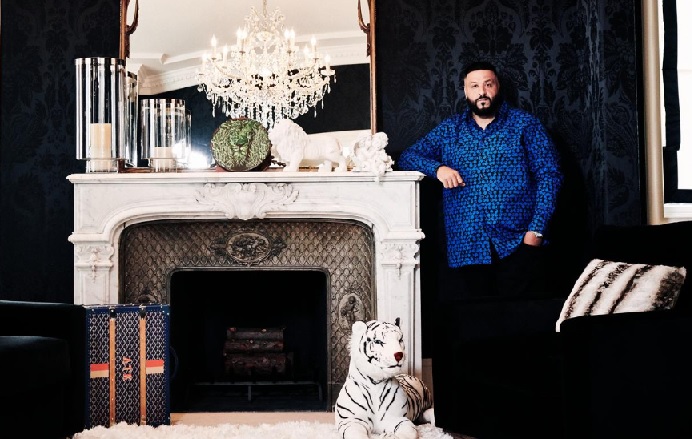 Use of Social Media 
During his time on the ground, Khaled was very active on social media. He was extremely active on snapchat where he was the most visible celebrity on the platform.
In 2016, Jay-Z signed as Khalid's manager after he noticed him from social media platforms.
Since he took to the skies in 2017, he has played shows in Montreal and Toronto in Canada. Nowadays, he prefers to fly private more especially the Bombardier Global fleet. Every time there is bad whether, he does not hesitate to reschedule his flights. 
DJ Khalid's services are in high demand in many global capitals such as London and Paris and when this is combined with endorsement deals from brands such as Apple and others the generate millions of dollars for him.