President Mnangagwa is fighting to preside over Robert Mugabe's burial in Harare which is against the late leader's wishes to be buried in Kutama.
According to government reports, late Robert Mugabe will be accorded a state funeral at a sports stadium in the country's capital city, Harare on 14 September, 2019.
A decision has not been made on his final resting place. All foreign embassies received the burial programme which did not indicate the burial site as expected.
This was intentionally left out as a result of the ongoing tussle on his final resting place. There are disagreements between the Mugabe family and the state on this matter.
The statement sent to embassies also stated that foreign leaders are required to leave Zimbabwe on Saturday after the service and aren't expected to attend the burial ceremony on Sunday.
Robert Gabriel Mugabe was reported dead while seeking specialized treatment in Singapore. He left a message that he should not be interred at the National Heroes Acre in Harare and instead he should be buried at his rural village of Kutama which is located 85 kilometers from the capital city Harare.
The statement sent to all foreign missions read as follows:
Heads of State/government wishing to attend the ceremony are advised to arrive in Harare on Friday, September 13, 2019… (and) depart immediately after the ceremony taking into consideration that government authorities will be fully occupied with preparations for the burial service/ceremony reserved for Sunday, September 15, 2019.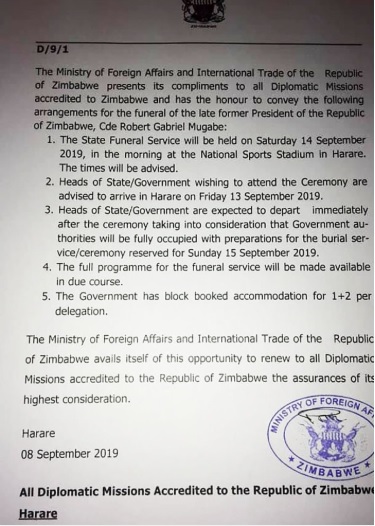 President Emmerson Mnangangwa, who toppled Robert Mugabe through use of military in 2017 is determined to burry Robert Mugabe at the National Heroes Acre in Harare.
Mugabe expressed his desire to be buried next to his mother in Kutama village. This decision is expected to prevent those who overthrew him from "pontificating" over his corpse.
Political analysts have predicted that Mnangagwa has asked foreign leaders to leave Zimbabwe one day before the actual funeral takes place to ensure that these foreign leaders do not visit Robert Mugabe's rural home in his absence.
Kembo Muhadi, Zimbabwe's Vice President, is leading a delegation to Singapore on Wednesday to accompany the body home.  
Family members and President Mnangangwa will be waiting to receive the body of President Robert Mugabe at the main airport in Harare. The body will first be taken to Kutama (Mugabe's rural home) and later be returned to Harare for service.
Mugabe did not want the current president and his colleagues to make political capital out of his demise as reported by Zimbabwe Independent newspaper.