Jadon Sancho signs a new deal at Dortmund
England international winger Jadon Sancho has penned a new deal at Borussia Dortmund that would see him double his wages to about £190,000 in a week.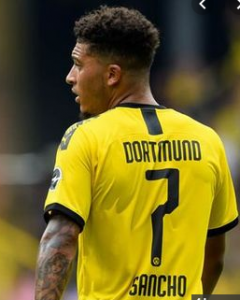 The 19 year old player scored 13 goals for Dortmund last season and helped the club to finish in the second position. His good performances led to Manchester United have interest in signing him.
Dortmund signed Jadon Sancho from Manchester City in 2017 on a five year deal. Before joining Manchester City, Sancho came through the ranks of Watford Academy.
Jadon Sancho scored against Bayern Munich and recorded an assist as Dortmund beat the Bundesliga winners in the German Super cup on 3rd August 2019. He also scored and assisted in Borussia Dortmund's opening day match against Augsburg. Dortmund went on to win by 5 goals to 1.
Read More: