Juventus Boss Maurizio Sarri is ill
Juventus have confirmed that manager Maurizio Sarri is being treated for Pneumonia. Maurizio Sarri missed a friendly match against Triestina during the weekend in what was thought to be Flu. However, after further tests were carried out, he was diagnosed with Pneumonia.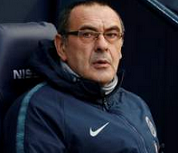 Juventus are set to begin their Serie A campaign on Saturday 24th away against Parma FC. Maurizio Sarri remains a doubt for that match.
The 60 year old left Napoli in July 2018 and joined Chelsea where he won the UEFA Europa League during his season long spell at the Stamford Bridge. In June 2019, he replaced Massimiliano Allegri as the Juventus manager.
Read More:
Comments
comments