Manchester City forward Gabriel Jesus has been handed two month international suspension
Manchester City Brazilian striker Gabriel Jesus has been handed a two month suspension from international football. He has also been fined £25,000 because of his conduct during the Copa America Final match against Peru.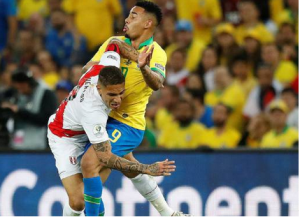 The 22 year old was shown a second yellow card by Chilean referee Roberto Tobar after challenging Peru's Carlos Zambrano. He acted furiously to the referee's decision signaling that the referee had been bribed. He almost knocked the VAR monitor and busted into tears as he left the pitch. His red card didn't matter as Brazil went on to win the match 3-1.
The two month suspension handed to Gabriel Jesus means he will not take part in Brazil's next two fixtures set to be played next month.
Read More: