Kwale County Women rep ejected from Parliament for bringing baby to the Parliament chambers
Proceedings at the Parliament yesterday came to a standstill after Kwale County women rep Ms Zuleika Hassan entered parliament in company of her baby who is 5 months old.
Christopher Omulele who was acting as the speaker ordered Ms Zuleika Hassan to withdraw from the parliament chambers saying that the chambers were not the right place to take care of the baby.
Some women lawmakers showed Ms Zuleika Hassan their support urging her to stay put and this led to the halt of the parliamentary proceedings.
The standing in speaker called the sergeant-at-arm to force Ms Zuleika Hassan out of the chambers who was then being shielded by her female counterparts.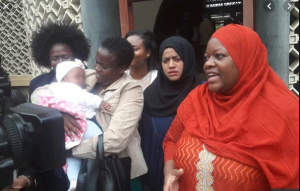 Ms Zuleika Hassan addressed the press outside the parliament in company of the other female lawmakers where she said she had an emergency in the morning and had to come with the baby to parliament. "I had an emergency and I decided not to miss work but come with the baby.  She is not an atomic bomb and can't explode. "
Read More: Man commits suicide after he's diagnosed with cancer