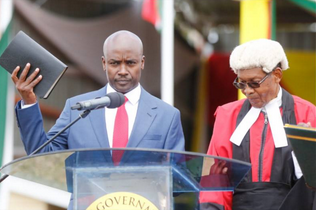 Hillary Barchok sworn in as Third Bomet County Governor
Hillary Barchok has been sworn in today as the third Governor of Bomet County days after the demise of Governor Joyce Laboso. He becomes the third Bomet Governor after Isaac Ruto and Dr Joyce Laboso. The swearing in ceremony took place at Bomet Green Stadium and was presided over by Kericho High Court judge George Dullu.
Joyce Laboso's husband Edwin Abonyo and Deputy President William Ruto attended the ceremony.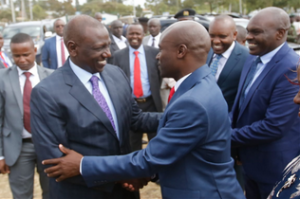 Dr Joyce Laboso succumbed to cancer last month at Nairobi Hospital and was buried last Saturday.
In his speech, Hillary Barchok said, ''I am committed to ensuring that the values and principles that Dr Joyce Laboso stood for will be reflected in my leadership. It is upon us all to live in a way that honors her memory"
Barchok also vowed to cooperate with the national government to overcome the cancer menace. ''We cannot sit back and talk about cancer anymore. We appreciate the commitment the president has made, to see that the chemotherapy and radiotherapy equipment at Longisa referral Hospital has been operationalized by September.''
Governor Hillary Barchok also promised to see to it that the 'Inua mama na kuku' programme that was started by Dr Joyce Laboso is completed.
Read More: Mombasa County budget expenditure for the first 9 months of 2018/2019
Comments
comments