Robert Alai blogger shares an account of attack on police officer
A video shared by Robert Alai blogger shows a motorist attacking a police officer who boarded his car. 
"No reason for anyone to assault a police office, no matter how wrong you think the officer is. Address grievance with IPOA,
@NPSOfficial_KE 
Internal Affairs or court or law," wrote Robert Alai on Twitter. 
Kenyans on Twitter (KOT) made mixed reactions about the incident shared by Robert Alai blogger. Some supported the actions of the motorist while others condemned the motorist for attacking a police officer. 
The report below shared by the blogger provides additional information.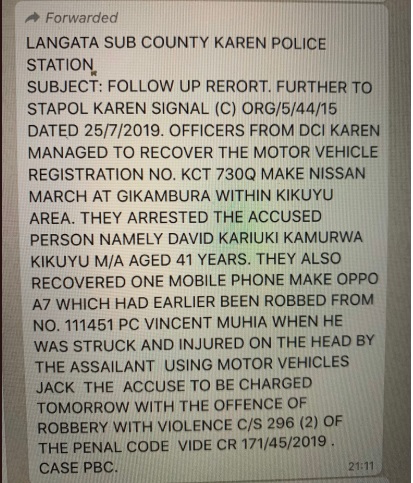 According to the above report "DCI officer from Karen managed to recover the motor vehicle reg. No. KCT 730Q make Nissan March at Gikambura within Kikuyu area. They arrested the accused person namely David Kariuki Kamurwa…aged 41. They also recovered one mobile phone make OPPO A7 which had earlier been robbed from Vincent Muhia when he was struck and injured on the head by the assailant using motor vehicles jack. The accused to be charged tomorrow with robbery with violence C/S 296 (2) of the Penal Code VIDE CR 171/45/2019. CASE PBC" 
The police officer wrote the following statement: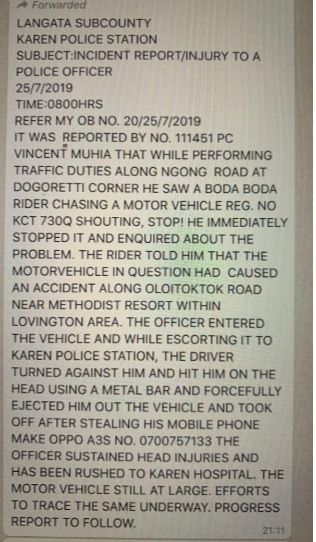 This man decided to assault a police officer. If you have info on him, share. Must be arrested and charged. pic.twitter.com/aNVrn4gjyX

— Robert Alai (@RobertAlai) July 25, 2019
Read More: Boris Johnson is the new UK prime minister
Comments
comments