Governors Petition Supreme Court over Court Funds row
If you have been following the division of revenue bill 2019, you may be aware that there was a stand off between the Senate and National Assembly. 
The two could not agree on how much the 47 counties will receive in Equitable share for financial year 2019/2020. The Senate wanted the counties to receive Ksh. 327 billion while the National Assembly wanted the devolved units to receive Ksh. 310 billion. Later the National Assembly revised their position and instead said the counties should receive Ksh. 316 billion. The Senate has held into their guns and insisted on Ksh. 327 billion as required by law. 
The National Treasury was the one which proposed that Equitable Share to be reduced from Ksh. 314 billion in Financial Year (FY) 2018/2019 to Ksh. 310 billion in 2019/2020. If the law is observed to the letter, then, counties will receive Ksh. 335 billion during the financial year 2019/2020. 
The row between the two houses on the Division of Revenue bill 2019 led to formation of a special mediation committee to negotiate and sort out the issue of Division of Revenue Bill 2019. 
Ultimately, the mediation committee failed to reach a consensus or an agreement. 
The Deputy President, Dr. William Ruto, presided over the mediation committee and asked members not to stick to their guns on the issue of Division of Revenue Bill 2019. 
Read More: Kilifi County dependency ratio indicated as 101.45%
Budget Estimates approved by National Assembly 
The national budget was approved without agreeing on how much the 47 counties will receive. 
Governors petition the supreme Court 
On  15th of July 2019 Governors, their deputies met at Laico Regency Hotel from 9:00 am to discuss their predicament before marching to Supreme Court where they presented their petition.
The protest march was led by the Council of Governors Chairman Wycliffe Oparanya and his vice Chairman Mwangi Wa Iria. 
"The country's economy has been projected to grow by 6.2 percent from the current 6.1 percent. There is a positive outlook in terms of economic growth and growth in ordinary revenues and there is absolutely no scientific reason for the equitable share of revenues to the counties to be reduced," said Wycliffe Oparanya the current Chairman of Council of Governors.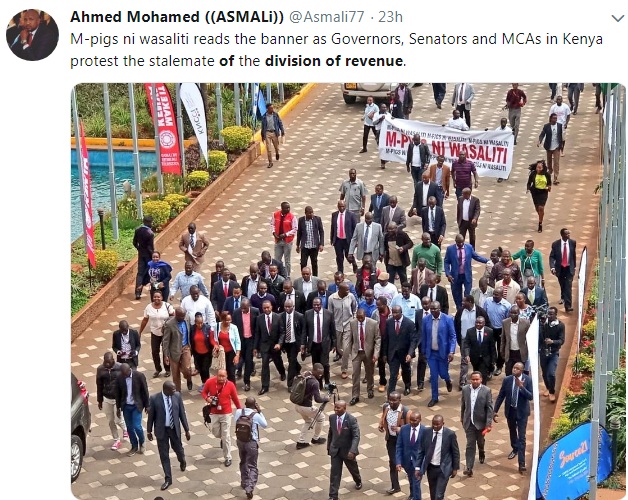 The case will be mentioned on Friday 19-07-2019 at the Supreme Court of Kenya. 
Consequences 
"Very few counties have enacted their budgets. Quite a number have not because they don't know the figure to use," added Governor Wycliffe Oparanya. 
Kenyans had the following to say on social media platforms: