Paediatric is a branch of medicine which deals with diseases of infants, children and adolescents. Now Kisumu County is building a special hospital to handle diseases which affect children.
Kisumu County is building a paediatric hospital at Kombwewa in Seme Sub-County. Novartis will provide financial support to the tune of Ksh. 168 million toward the construction. The balance of Ksh. 80 million will be topped up by Kisumu County government to be spent on stocking and equipping the unit.
Construction is process is expected to take 18 months. Seme National Government CDF and Kenya Medical Research Institute (KEMRI) are also expected to make a contribution towards successful completion of this project.
The hospital will comprise of the following: playroom for children, an isolation room, incubator nursery ward, general paediatric ward, a high dependency unit, a research ward and beds for mothers with children.
Read More: Kisumu County Priorities in FY 2019/2020
The hospital will be a two storey building and will offer both out-patient and in-patient services. Kisumu Governor Professor Nyong'o informed media that Kisumu has a high burden of infectious diseases. For example, HIV prevalence currently stands at 16.3 percent and 79 out of every 1,000 children dies before their 5th birthday.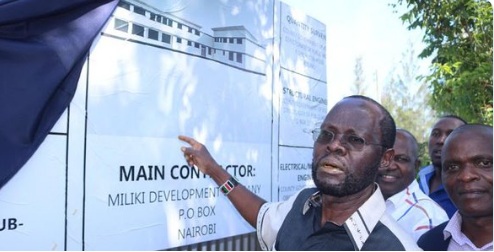 Prof. Anyang Nyong'o further said that Out of Pocket Payments (OOP) has caused poverty among the local residents.
In order to achieve Universal Health Care Coverage (UHC) Kisumu County has chosen to focus on preventive and primary healthcare.