What is in Kenya national budget FY 2019/2020?
In this article, we focus on analyzing the implications of National budget for 2019/2020 and the tax implications of Kenyan budget. Every year the national Treasury is required to submit budget proposals to the National Assembly for consideration. The deadline for doing so is 30 April every year. On 25 April 2019, the Kenya national budget estimates were table before the Budget and Appropriation Committee. We expect a lot of public debate for the rest of May 2019.
As part of our efforts to contribute to the public debate/discourse, we are planning to publish a series of articles to highlight the sector priorities as indicated in the budget estimates for financial year 2019.
Before we go further, I had like to mention that these figures are provisional. This means that they are subject to change or remain the same considering that the National Assembly has powers to approve the budget estimates with or without amendments.
Read More: Pension Industry in Kenya to finance the Big Four Agenda
On 4th to 6th December 2018, the Kenya National Treasury held public forums at the Amphitheater Hall at the Kenya International Conference Center (KICC) to collect views of the members of the public on various sectors.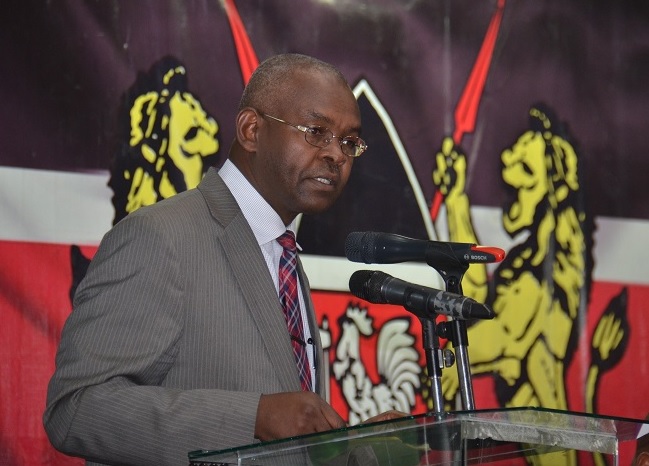 Draft Budget Estimates 2019/2020
According to the draft Programme Based Budget for the Financial Year 2019/2020 a total of Ksh. 1.8 trillion has been tabled with Ksh. 1.1 trillion being proposed for recurrent expenditure while Ksh. 684 billion is proposed as development budget.
Read More: Kenya National Treasury announce Euro Bond II
Selected Ministries, Departments and Agencies (MDAs) have their budgets proposed as shown the table below:
| | | | |
| --- | --- | --- | --- |
| MDAs | Recurrent budget | Development | Total Proposed budget |
| OAG | 5.4 B | 224M | 5.7B |
| Teachers Service Commission (TSC) | 251B | 54M | 251.7B |
| Public Service Commission (PSC) | 1.1B | 65.4M | 1.2B |
| CRA | 456M | | 456M |
| IEBC | 4.7B | 43M | 4.8B |
| NLC | 1.3B | – | 1.3B |
| NIS | 37.6B | – | 37.6B |
| State Department Petroleum | 269M | 5.4 B | 5.7B |
| State Department for Mining | 632M | 313M | 945M |
| Lands | 3B | 3.5B | 6.6B |
| WASH | 5.5B | 55.5B | 61.1B |
| Housing | 1B | 30B | 31B |
| Health | 58B | 35B | 93B |
| State Department Planning | 11.9B | 40.9B | 52.8B |
| State Department for University Education | 104.3B | 8.7B | 113.1B |
Table: Extract of selected proposed budget for MDAS in the national budget estimates
Standard Gauge Railway (SGR)
A total of Ksh. 63 billion is expected to be allocated towards Rail Transport. Recently, Kenya failed to secure a loan from the People's Republic of China to complete the construction of SGR from Naivasha to Kisumu City. This is reflected in the proposed budget estimates.
Read More: What is the size of Kenya national security budget FY 2019/2020?
Housing as one of the Big Four Agenda is also an area of interest for many budget analysts. The Housing Development and Human Settlement has a proposed budget of Ksh. 13.6 billion out of which Ksh. 493 million will be recurrent expenditure while Ksh. 13 billion will be development expenditure. From our previous analysis, the state is expected to contribute 65 billion every financial year up to 2022. This means for FY 2019/2020, there is still a deficit of Ksh. 51.4 billion for housing. We still have doubts whether the delivery of 500,000 units of affordable and social housing is possible.
Water and Sanitation
We all know that water and sanitation is a devolved function as indicated under the 4th Schedule of the Constitution of Kenya 2010. However, the National Government is still in charge of policy formulation, implementation and oversight in most sectors. WASH is not an exception.
If the draft budget gets approved the way it is, the budget for Water and Sanitation (WASH) will increase from Ksh. 52.8 billion in FY 2018/2019 to Ksh. 61.1 billion in FY 2019/2020. This will be a 15.7% increase. This one step in the right direct if these figures get approved the way they are or better still if they get enhanced further.
Read More: Kenya public debt update
In Nyamira County the national government is planning to start the construction of Bonyunyu Dam in order to supply clean piped water to Kisii and Nyamira counties. This project is financed by the Dutch government. There are also other dams which are planned in the coming year. These include Mwache Dam in Kwale County and Yamo Dam.
Our analysis indicate that there is no mention of the infamous Arror and Kimwarer dams. The only mention of Arror is in reference to the construction of footbridge at Kaboit over Arror River which was allocated Ksh. 5.6 million in 2018/2019.
Investments on Water Harvesting
A whooping Ksh. 2.4 billion was allocated towards water harvesting in 2018/2019. The national government is proposing an allocation of Ksh. 4.3 billion towards the same in financial year 2019/2020.
RESEARCH, SCIENCE, TECHNOLOGY AND INNOVATION
The Research, Science, Technology and Innovation budget vote stands at KES. 2.4 billion. There has been allegations from leading academics that research and development is poorly funded in Kenya, now you have seen it for yourself.
External Sources of Revenue
Bilateral Sources
The national treasury approximates that KES. 125.9 billion Will be received from Kenya's bilateral partners. These are countries which have expressed willingness to issue loans and grants to Kenya. These resources will be made up of KES. 117.4 billion in loans and KES. 8.4 billion in grants.
The People's Republic of China is expected to Kenya's top destination for bilateral loans at KES. 55.6 billion followed by Italy (KES. 19.9 billion), Japan (KES 15 billion) and France (10 billion) rounding up the top four bilateral creditors for Kenya. The State Department for Transport will be the biggest recipient of Chinese loans and grants for Kenya at KES. 38.1 billion.
For grants, KFW-German is the largest source with Ksh. 1.7 billion followed by Japan (1 billion) and France which is expected to issue grants valued at Ksh. 0.8 billion. It's worth noting here that grants is money received by a country and is not to be repaid back.
Multilateral Sources
The National government is expected to receive a total of KES. 284.8 billion from external sources out of which KES. 151 billion will be loans and KES. 33.7 billion will be grants.
Read More: National Treasury may reconsider the 16% VAT on fuel after public fury
The World Bank Group (WBG) is expected to lead the back of multi-lateral partners who will be issuing loans to Kenya at KES 95.9 billion. The Bretton Wood institution (WBG) has also expressed interest to provide KES. 4 billion in grants to Kenya.
According to the draft budget estimates for national government, The Global Fund will only provide grants valued at KES. 11.1 billion to Kenya and no loans. The same will be the case with European Invest Bank which shall provide KES. 4.9 billion in grants to finance the budget for FY 2019/2020.
African Development Fund (ADF) will provide Kenya a mixture of loans (KES. 28.6 billion) and grants valued at KES. 890 million. The others making loans to Kenya in the coming financial year will be: OPEC (KES. 712 million) and Arab Bank for Economic Development in Africa (KES. 1.2 billion).
The UNDP, UNEP and UNICEF will provide grants to Kenya's budget FY 2019/2020 valued at KES. 347 million, 77 million and 277 million respectively.
The Global Alliance Vaccine Initiative (GAVI) is likely to make available KES. 2.6 billion in grants to finance Kenya's budget FY 2019/2020. Food and Agriculture Organization (FAO) and United Nations Women (UN Women) will advance Kenya grants valued at KES. 139.3 million and KES. 90.6 million respectively.
In order to contribute towards Kenya's agenda on Food Security, the International Fund for Agricultural Development will advance Kenya a loan of KES. 3.5 billion and a grant of KES. 585 million. Remember Food Security is one of the Big Four Agenda in Kenya.
Proposed Development Projects
Under the State Department for Interior, the national government is proposing an allocation of Ksh. 890 million in FY 2019/2020 to be spent on supplies for national identification (ID) cards. The state had allocated a similar amount in FY 2018/2019. A total of Ksh. 400 million is proposed for smart driving licenses. Supplies for passport production is likely to cost the taxpayers a total of Ksh. 90 million while purchase of e-passport books will be allocated Ksh. 640 million.
KES. 5 million will be spent on construction of a perimeter wall in Ruiru Prison while some money will is planned to be spent on construction of watchtower and armoury at Langata Women Prison.
Ministry of Foreign Affairs
Under the Ministry of Foreign Affairs, KES 250 million will be spent on renovation of government owned properties in Washington DC. A similar amount will be spent in upgrading and renovation of ambassador's residence in London.
The renovation of ambassador's residence in Dar es Salaam will cost KES. 29.7 million in FY 2019/2020 which is more than twice the amount of KES 12.7 billion allocated in FY 2018/2019.
Renovation of government properties in New York in USA will cost Kenyan taxpayers. If approved this will be higher than the allocations of KES. 150 million made in FY 2018/2019.
The Ministry of Foreign Affairs Headquarters situated along Harambee Avenue will be refurbished at a cost of Ksh. 103 million if the budget estimates FY 2019/2020 are approved without any amendments.
In 2018/2019, Kenyan government allocated Ksh. 1.3 billion towards the purchase of Chancery and Ambassador's residence in Geneva. An additional Ksh. 820 million will be set aside for that purchase in FY 2019/2020.
New plans
In the Financial Year 2019/2020, the national government is planning to construct 10 new Teachers Training Colleges (TTCs) at a cost of KES. 185 million. In addition to that the state is planning to construct 30 new Technical Training Institutes (TTIs) across the country.
Read More: Trade in Kenya