Mombasa County financial performance during first quarter FY 2018/2019
In Kenya a financial year runs from July to June every year and there are four quarters in a financial year. The first quarter runs from July to September every year.
In this article, we'll look at how Mombasa County performed during the first quarter of the financial year 2018/2019.
Mombasa County has an approved budget of Ksh. 13.59 billion which is made up of Ksh. 8.63 billion and Ksh. 4.97 billion for recurrent and development expenditure respectively.
Mombasa County expects to receive Ksh. 8.23 billion from the national government as equitable share and it's expecting to collect Ksh. 3.88 billion from own sources of revenue (OSR).
The amount collected during the first quarters of each financial year had shown an upward trend from Ksh. 205 million collected during the first quarter of FY 2013/2014 to Ksh. 384.7 million for the same period in FY 2016/2017.
The rain started beating Mombasa County in FY 2017/2018 since the own source revenue collection started declining with Ksh. 307.88 million in 2017/2018.
The first quarter of FY 2018/2019 was no better since the decline in Own Source of Revenue (OSR) collection further declined to Ksh. 298.64 million.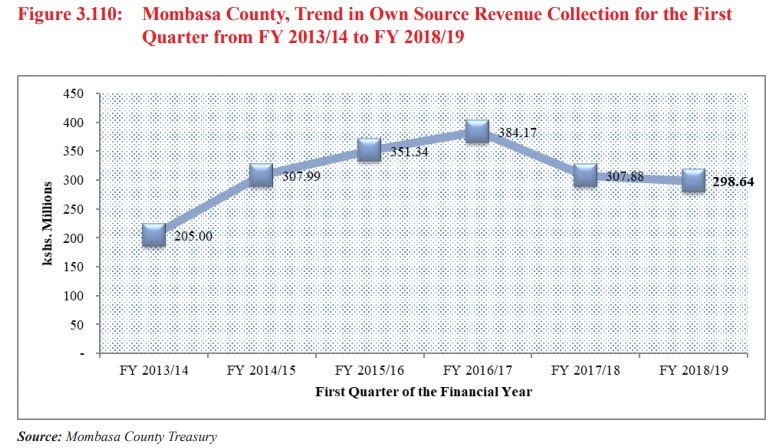 It's sad that Mombasa County did not absorb even a single cent on development projects during the first quarter of FY 2018/2019.
Watch out for more news about Mombasa County on this blog.
Read More: