Dr. Victoria Bateman a Fellow at University of Cambridge goes naked in protest against Brexit

An Economics Fellow, Dr. Victoria Bateman, at the University of Cambridge went naked in protest against Brexit.
She did this during her performance at Cambridge Junction theatre a couple of days ago just a day before parliamentarians voted on Britain's exit from European Union.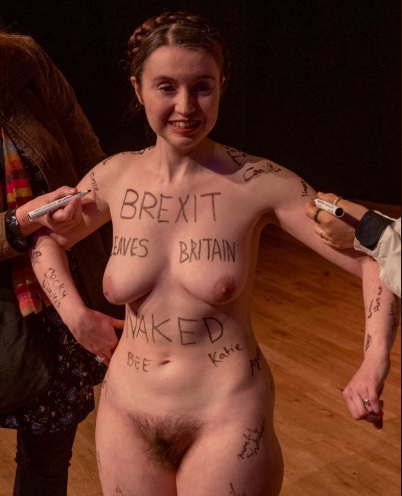 She used the performance to argue that Brexit leaves Britain naked.
"Britain has sold itself the emperor's new clothes. She explores how Brexit leaves the British economy exposed, how it has uncovered and fuelled dangerous anti-immigration sentiments, and how it has laid bare the failures of past policy – failures that mean that too many people believe they have nothing to lose from Brexit simply because they have nothing at all," Dr. Victoria Bateman said.
Watch the video below from her Twitter post:
Let me add this to @eucopresident's words: Brexiteers have placed Britain on the #YellowBrickRoad. It's a long & arduous journey. And, when we get to the end, will all the time, energy & pain be worth it? Listen here https://t.co/2Z84HZo91P #BrexitLeavesBritainNaked #RemaininEU pic.twitter.com/rIiHBDYqOS

— Dr Victoria Bateman (@vnbateman) February 6, 2019
or watch the entire video on Vimeo:
Read More:
Comments
comments