Newton Kapiyo exposes the rot at Homa Bay Referral Hospital using Facebook
Newton Kapiyo exposes the rot at Homa Bay Referral Hospital using Facebook
A Facebook user by the name Newton Kapiyo is doing a recommendable job through exposing mismanagement of Homa Bay Referral Hospital. Check the extract of his post below: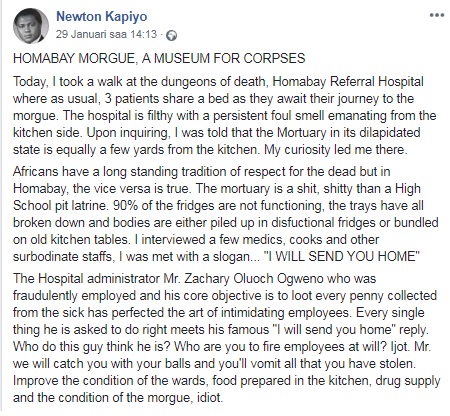 HOMA BAY MORGUE, A MUSEUM FOR CORPSES

Today, I took a walk at the dungeons of death, Homabay Referral Hospital where as usual, 3 patients share a bed as they await their journey to the morgue. The hospital is filthy with a persistent foul smell emanating from the kitchen side. Upon inquiring, I was told that the Mortuary in its dilapidated state is equally a few yards from the kitchen. My curiosity led me there.

Africans have a long standing tradition of respect for the dead but in Homabay, the vice versa is true. The mortuary is a shit, shitty than a High School pit latrine. 90% of the fridges are not functioning, the trays have all broken down and bodies are either piled up in disfuctional fridges or bundled on old kitchen tables. I interviewed a few medics, cooks and other surbodinate staffs, I was met with a slogan… "I WILL SEND YOU HOME"

The Hospital administrator Mr. Zachary Oluoch Ogweno who was fraudulently employed and his core objective is to loot every penny collected from the sick has perfected the art of intimidating employees. Every single thing he is asked to do right meets his famous "I will send you home" reply. Who do this guy think he is? Who are you to fire employees at will? Ijot. Mr. we will catch you with your balls and you'll vomit all that you have stolen. Improve the condition of the wards, food prepared in the kitchen, drug supply and the condition of the morgue, idiot.

by: Facebook User Newton Kapiyo

After the photos were posted online, thousands of people made their comments. Below is a sample of those comments: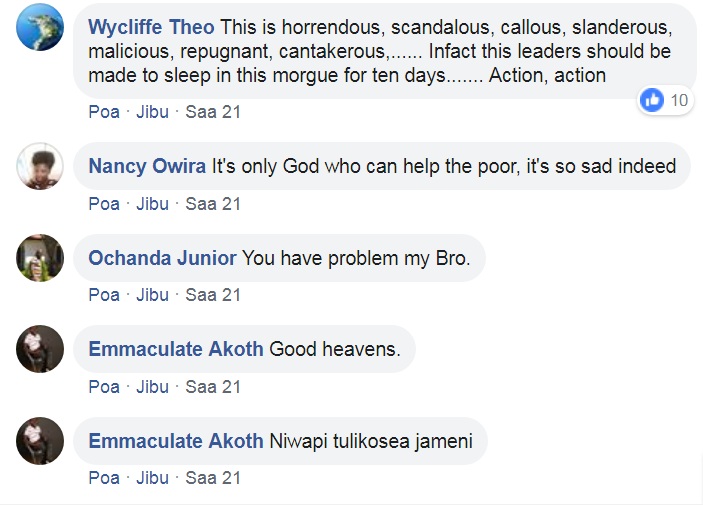 From the look of things, it seems Homa Bay County has more problems than meets the eye;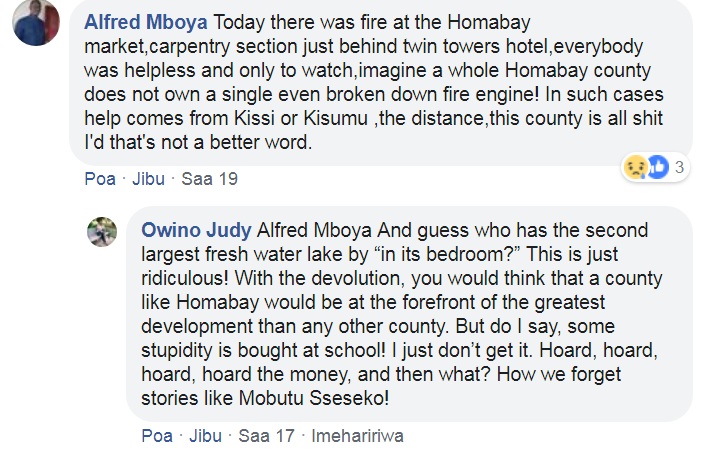 The story has been picked up by the Daily Nation which stated that top leadership in the health sector in Homa Bay County lead by CEC Richard Muga visited the healthcare facility after the photos went viral.
The photos showed up to three bodies piled up on a single tray in a cold storage facility. In normal conditions, one tray should carry just one body.
The expose has elicited harsh criticism of the county and hospital administration.
However, according to the Daily Nation newspaper, the CECM for health went a head and defended the situation at the hospital.
"This mortuary receives bodies from many parts of this county, as well as from other counties. Most accident and crime victims are brought here by police. That is the main reason for the congestion. We cannot reject them," Mr. Richard Muga the Homa Bay Health Executive told journalists.
Do you think high demand for health and mortuary services should be an excuse for poor service delivery? Let's know in the comments section.
Comments
comments