José Julián Martí Pérez- Part 1
Jose Marti was born on 28 January, 1853 and left the world on 19 May, 1895. He was treated as a Cuban national hero and also a very important figure in Latin American literature. During his lifetime, he served as a translator, poet, publisher, professor, essayist and journalist. He was very active in the political arena which lead to him serving as a political theorist and revolutionary philosopher.
Read More:
Due to his political participation and his writings, he was seen as a symbol for agitation for independence. He was labeled "the apostle of Cuban Independence".
Jose Marti was born in Havana where he later started his political activism as a young man. He traveled widely in the entire Latin America as well as in the United States of Americ (USA). He raised awareness and supported the call for Cuban independence.
Jose Marti died during a war known as the Battle of Dos Rios on May 19, 1895. Marti is one of the greatest Latin intellectuals of the 19th Century. He had written a lot of poetry, letters, novels, essays, lectures and children's magazine. He also wrote for numerous newspaper in America and Latin America. In addition to that, he was a founder of many newspapers.
Patria was one of his newspapers which served as a tool for campaigning for Cuban independence. In most of his work, he covered the themes such as democracy, liberty and freedom. His works influenced other writers and thinkers such as Ruben Dario of Nicaragua and the Chilean poet called Gabriela Mistral.
Jose Julian Marti Perez's father was from Valencia and mother was from Canary Islands. He was the eldest and had seven sisters. He was baptized on February 12 in Santo Angel Custodio church.
When he was aged 4 years, his parents migrated from Cuba to Valencia, Spain where they stayed for two years and then returned back to the island. At that time, Jose was enrolled at a local public school in a place called Santa Clara. This is where his father served as a prison guard.
When Abraham Lincoln was assassinated, Jose Marti was very unhappy to hear the sad news. Accompanied with his fellow students, they expressed their deep pain in a group mourning. Abraham Lincoln was the man who had abolished slavery in the USA. In 1866, Jose Marti joined the Instituto de Segunda Ensenanza and Mendive financed his education at that institution.
In September 1867, Marti joined the Professional School of Painting and Sculpture in Havana. This is where he took drawing lessons. This is an area where he had hoped to succeed but as fate had it, he never attained any commercial success.
Jose Marti wrote poems with a vision on a day when Cuba shall be an independent nation. His dreams did not end there, he also did all he would towards achieving that dream.
In 1869, Jose Marti published his first political work of literature. This is the same time when he published "Abdala" which was a patriotic drama. It was published in one volume on the La Patria Libre newspaper. "Abdala" is a story about a fictional country named Nubia which was engaged in a struggle for independence. Later Jose wrote a sonnet "10 de Octubre". This work of art later became very famous.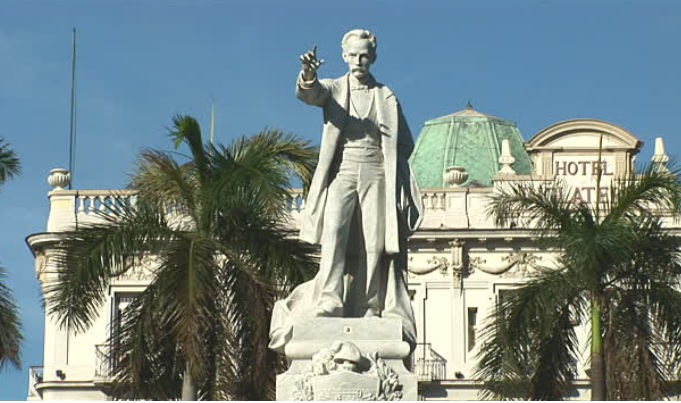 Jose Marti developed a great hatred for slavery which was still practiced in Cuba when he was young. Jose was arrested and held at a national jail when he was 16 years old. He was accused by the Spanish government of treason and bribery. This accusation was based on a letter Jose Mart and his friend Fermin had written to a mutual friend who had joined the Spanish Army. After four months Jose Marti confessed to the charges and was condemned to serve a period of six (6) years in prison. His mother tried all she could to free her son by writing to the government and indicating that her son was still a minor at the age of 16.
On the other hand, his father sought the support and advise of a lawyer friend which of course failed. Afterwards, Jose Marti fell sick and his legs was largely affected by the chains which bound him while in prison. This is why he was transferred to another part of Cuba called Isla de Pinos but his prison sentence was suspended. The Spanish government decided to send him on exile in Spain. While in Spain, Jose Marti was allowed to continue with his studies because he was 18 at the time. They hoped that by allowing him to study while in Spain, he would develop a new loyalty for Spain.
Jose Marti stayed in Spain between 1871 and 1874. The ship which took him from Cuba to Spain arrived in Cadiz in 1871 on board of steam ship named Guipuzcoa. Once in Spain, he settled in Madrid in a guesthouse. Once he arrived in the Capital City, he contacted his fellow Cuban Carlos Sauvalle who had also been deported to Spain a year before him. Carlos's house served as a center for reunions for the Cubans in exile.
Marti registered as a member of independent studies at the Central University of Madrid law faculty. While studying at this University he publicly engaged on discourse on Cuban issues.
During his time in Cuba Jose Marti was a regular at the National Library, British, Swiss and Iberian breweries.
On February 1873, the Cuban flag appeared in Madrid for the first time. It was hanging from Marti's balcony in a house where he lived for a couple of years.
On May, Marti moved to Zaragoza in the company of Fermi Valdes to progress with his legal studies at the Universidad Literaria. At this time the newspaper called La Cuestion Cubana of Sevilla published a series of articles by Jose Marti.
Finally, in June 1874, Jose Marti graduated with a law degree specializing in Canon and Civil law. After two months, he signed up as an external student at Facultad de Filosofia y Letras de Zaragoza. Then he finished his degree by October. In November, he returned to Madrid then left for Paris, France. This is why he met Auguste Vacuerie and Victor Hugo. In December, he started his journey to Mexico. Since he was prevented from traveling back to Cuba he proceeded to Mexico and them Guatemala. During these journeys, he taught and wrote extensively. All these time, he was advocating for for Cuba's independence.
Comments
comments