The Housing Debate 7/12/2018, Mombasa 
The Housing Debate 7/12/2018, Mombasa
On Friday 7th December, 2018 we hosted the housing debate in Mombasa County.
In 2018/2019 Mombasa County has a budget of ksh 13.6 billion out of which ksh 3.8 billion will be generated from own sources of revenue.
The lands and housing department was allocated ksh 447.6 million during the year under focus. This is unfair for a sector which gives too much towards the local sources of revenue in the name of land rates.
This budget will be spent as indicated below:
Ksh 258.2 million will be spent on Administration and planning;
Ksh 32 million will be spent on Land management and spatial planning;
Ksh 157.3 million will be spent on Housing Development and Management. A large proportion of this amount (ksh 150 million) will be development expenditure.;
The total amount allocated towards lands and housing sector is estimated to be 3.3% of the total budget for the year 2018/2019.
One of the challenges reported under this sector is inadequate personnel with little or no technical skills. This means that there are inadequate number of urban planners, architects and engineers in the housing and lands department.
Under the Mombasa County Urban Planning, the city is planning to engage on a number of projects which include: Nyali bridges, light train connecting Likoni to Kengeleni, second and third Nyali bridges to be constructed.
Redevelopment of Housing in Mombasa
I was surprised to note that a total of Ksh. 100 million has been allocated towards the construction of 9,000 units of housing in Mombasa under the public private partnership (PPP) arrangement.
When I posted this on social media, Fr. Dolan of Mombasa quickly calculated and found out that it makes no sense. He thus said: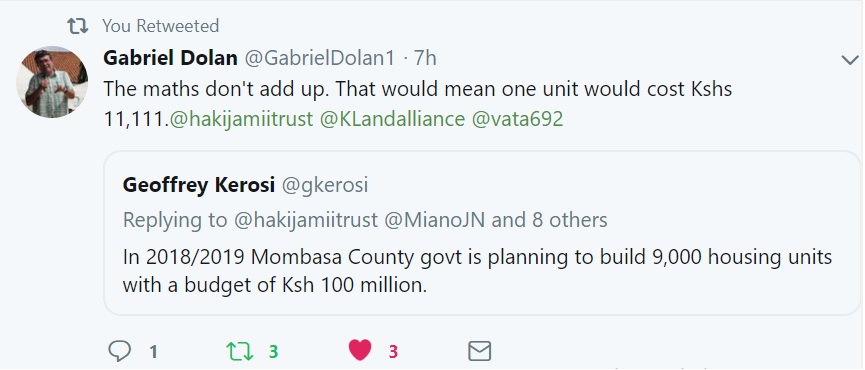 The mathematics did not add up because the county claims that they will build the 9,000 units of housing using a Public Private Partnership model.
Proposed Activities Financial Year 2018/2019:
a) Planning of Miritini satellite city,
b) Redevelopment of 10 county estates;
c) Security of tenure for Chaani Site and Service scheme among others;
Land Bank
Mombasa County is planning to engage in land bank by purchasing 11 acres at a cost of 11 million. The reason for land banking I am informed is to get land for establishment of a public facility.
Leasing or buying
I learnt from the County Chief Officer for Housing that the houses which will be built on public land shall be leased for a given number of years and not for sale for good.
The end, thank you. See you in my next article.
Read More:
Comments
comments