European Union Observer Mission: Kenya's Ruling Party Misused State resources
The European Union Observer Mission released their 2017 elections report for Kenya on 10th January 2017. It was released by Ms Marietje Schaake, the Chief observer in Kenya's 2017 elections. The following are the main issues highlighted in the report:
The report was released by the mission in Brussels, Belgium and it attracted anger from Johnson Weru Kenya's ambassador to Belgium and European Union.
The chief observer noted that she was willing to release the report in Nairobi but it was not possible because the Kenyan government was "unwilling to receive her."
"Her actions are disdainful and condescending, and offend the multilateral understanding under Article 8 and 96 of the Cotonou Partnership Agreement between EU and 79 countries," said Kenya's ambassador to EU.
The report states that "Jubilee used state resources to campaign, intimidation of judicial officers after the annulling of August 8 presidential elections results, violent acts by opposition supporters against election officials…"
The EU Observer Mission Report gives 29 recommendations to be implemented in order to improve the electoral process.
The recommendations include: developing KBC into a genuine media house with financial and editorial independence.
European Union Observer Mission accuses the ruling party of abusing state resources during the campaigns. This included the use of official county and national government vehicles during campaigns and even 1 military helicopter was deployed in Makueni County.
EU observer Mission accuses Jubilee Party of what they called "harsh rhetoric" against the judiciary and subsequent intimidation of Civil Society organizations.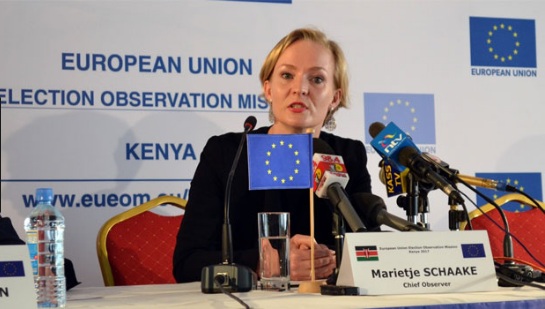 READ the FULL report here.
Comments
comments