Isiolo County Under-Performed in Local Revenue Collection in FY 2015/2016
The audit reports which are now at our disposal reveals that Isiolo County under-performed in its local revenue collection.
The county had set to collect Ksh. 360 million during the year under focus but managed to collected Ksh. 116 million only. This was 32% of the annual local revenue target for that year. It means that the county was unable to collect Ksh. 243.9 million during that year.
The annual implementation report from the office of the Controller of Budget reveals that the local revenue collected by Isiolo County was Ksh. 110.11 million or 30.6 percent. This worries me. Why can two government agencies provide two different figures for local revenue collected. Are they reading from the same documents? That is a question for another day.
Below is a table that shows what each stream of local revenue contributed to the county coffers: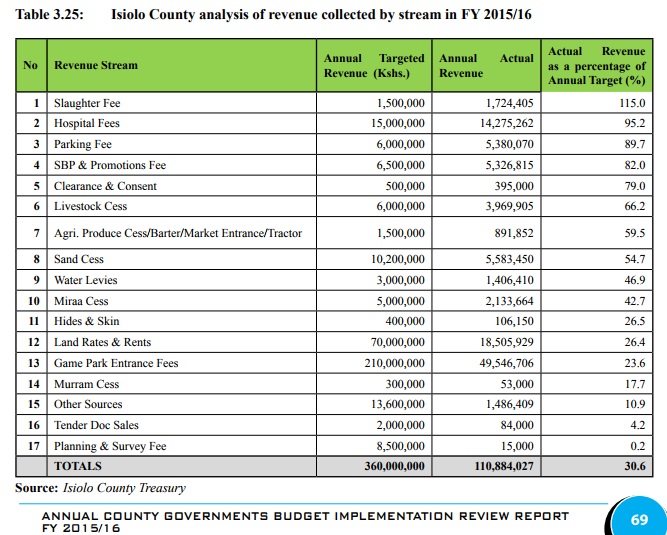 At Ksh. 49.5 million, Game Park Entrance fees contributes the largest portion of local revenues. This is followed by land rates and rents (Ksh. 18 million). In most counties as in Isiolo, land rates is another cash cow. This is because, all land owners pay land rates to the county government.
Below is a video to the great Buffalo Springs Game Reserve in Isiolo County (a cash cow) for the county government. This trip was made in September 2017:
Note: Over the years local revenue collection has been declining. For instance Isiolo County collected local revenues as follows:
FY 2013/2014 = Ksh. 147.4 million
FY 2014/2015 = Ksh. 132.2 million
FY 2015/2016 = Ksh. 116 million (or Ksh. 110 million as per Office of Controller of Budget reports).
The above trend is worrying. This is one of the reasons why counties fail on promises.
Follow us on Twitter @kerosiT