David Ndii: Patriot or a Criminal? 
Economist David Ndii was arrested yesterday at around 5:00 Pm at Leopard Beach Hotel in Kwale County. The officers who arrested him were from the Special Crimes Prevention Unit and Flying Squad.
Police confirmed the arrest and reported that he was held at Diani Police Station in Ukunda. At around 9:45 pm the economist was sneaked out and driven to Mombasa then Nairobi.
"This is designed to intimidate and blackmail the people of Kenya but (they) won't be intimidated into submission." Said NASA Coalition lead Raila Odinga.
He further added that, "the will of the people of Kenya cannot be suppressed through blackmail, intimidation, tear gas, bullets and arrests."
For the last four years, Dr. Ndii has been a fierce critic of the Jubilee administration. On 1st December 2017, National Super Alliance (NASA) coalition nominated Dr. David Ndii to preside over an organizing committee made up of 7 members that is mandated to use People's Assembly in restoring legitimate leadership, democracy and good governance.
The other six members of the committee are: Dr. Muthaka Kangu, Peter Mathuki, Hamida Kibwana, Judy Sijeny, Oduor Ongw'en and Koitamet Olekina.
Kenyans on Twitter (KOT) such as the brave activist Bonface Mwangi reacted to the news of  Dr. David Ndii's arrest as follows: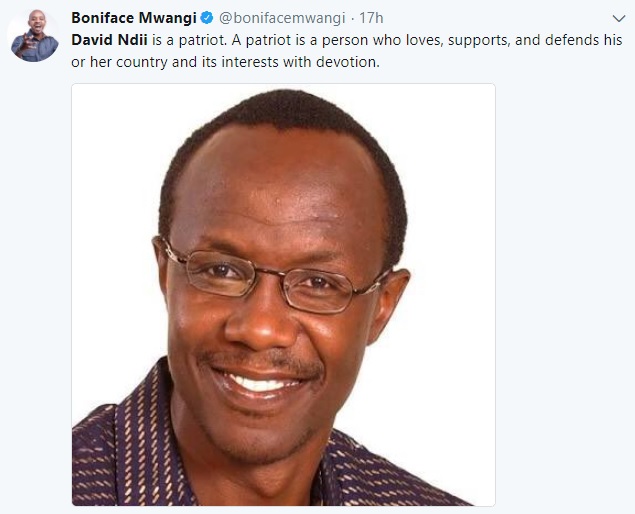 Miguna Miguna, could not spare Jubilee government in this tweet calling what happened "illegal abduction and detention".

Adrian Blomfield through his twitter account noted that: "David Ndii … is one of the country's prominent economists and anti-corruption crusaders…for the government he is a very dangerous man."
Donald Kipkorir, a city lawyer, had some observations about this arrest as indicated in the post below:

Dikembe (blogger affiliated to NASA) has a word too: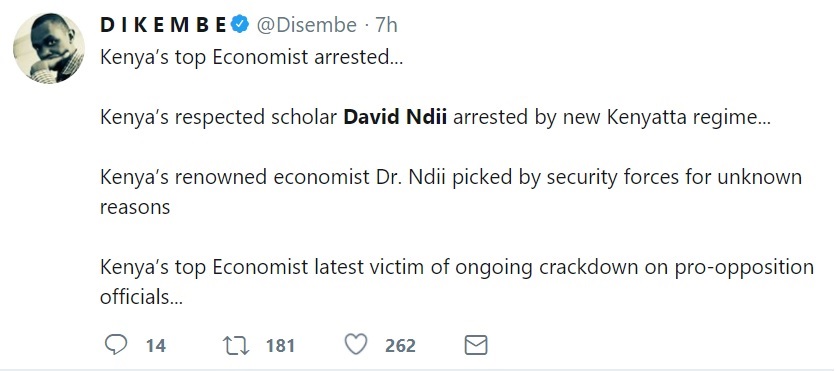 David Ndii's wife, Mwende Gatabaki has been praised by Kenyan on Twitter for vehemently defending her husband Prof. David Ndii.
The story of Economist David Ndii's arrest has been picked by international media and is spreading like forest fire.

DISSENTING OPINIONS ON THE ARREST OF DAVID NDII:

Read more on Financial Times.