Kenya Budget to be Read on 30th March 2017
The Cabinet Secretary for Treasury, Mr. Henry Rotich will read the Kenya budget speech at the national Assembly next week  on 30th March, 2017 starting from 3:00 pm.
The president will be in attendance. 
The Treasury PS promised Kenyans that the income tax will not be increased to finance next Kenya budget. Similar assurances were made by the Director General of Budget, Dr. Geoffrey Mwau.
The proposed Kenya budget for FY 2017/2018  will be Ksh. 2.6 trillion. Kenya Revenue Authority will raise Sh. 1.77 trillion towards that budget. The remaining amount will be budget deficit.
Budget Deficit
Next year's budget is going to have a deficit. A deficit budget happens when the government spending is more than revenues generated.
Dr. Kamau Thugge revealed to the media that the budget deficit will be between 6.0% to 6.5% of Kenya's Gross Domestic Product (GDP).
Part of the Sh. 523 billion deficit in Kenya budget will be financed by external borrowing up to Sh. 205 billion and borrow Sh. 318 from the local market (local bank loans, bonds and securities).
Increase in Taxes
The national treasury has assured Kenyans that there will be no increase in taxes. This is because there will be no one off spending. I think the real reason why the national treasury is not increasing taxes is because this is an elections year.
Any attempt to increase taxes will make the current government unpopular. We expected this to happen.
Gross Domestic Product (GDP)
The national treasury has predicted that Kenya's GDP will be Sh. 8.5 trillion. An increase from the Sh. 7.2 trillion anticipated this year.
Kenya Budget on Steroids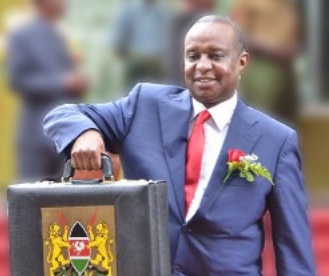 Kenya budget for FY 2017/2018 will come earlier than normal to avoid a crisis. By June, parliament and county assemblies will have been dissolved to pave way for campaigns. There will be no legislators to enact the budget.
This is a departure from the tradition where budgets are presented to parliament at the same time in all East African countries. The Kenya budget is expected not to touch on issues affecting other East Africa countries. Analysts have also noted that the Kenya budget will have comprehensive policy changes.
Follow me on Twitter @gkerosi
Read More: