It with sadness that we have come into terms with the sudden death of our beloved uncle Mr. Edward Osoro Mose. He was born in the late 80's (I leave this section for those who will read his obituary). He was more of a brother to us than an uncle. This may have been due to the fact that we were age mates.
In Chinua Achebe's words, "He was a man of the people" and a true son of the soil. His mother Mrs. Keresensia Monyangi Mose used to refer to him as "Mokogoti" while age mates always knew him as "Man Solo."
Edward Osoro always enjoyed good health throughout his life.
"Osoro had never been sick or hospitalized," said Mrs Monyangi.
Edward Osoro was known to be energetic to an extent that close friends referred to him as "Arthur." This name was borrowed from the Armenian brothers saga during the Mwai Kibaki era. These foreigners were working in Kenya as mercenaries and their various exploits attracted the attention of many Kenyan youths.
The late Osoro was a man of action. Whenever something occurs in the village and beyond that required his attention, he was always the first to appear on the scene. Extremely active in dispensing help to those who needed it most. To him it didn't matter whether he had money or not. He was a trusted lieutenant in an engagement.
The Late Osoro has never practiced segregation when it comes to working. I was always amazed by his willingness and readiness to do any work to generate income. For most of 2015 Edward and myself stayed at "Coast" in Kawangware, Nairobi. He was searching for jobs, just the way every youth does on arrival in any city. As he searched for "a better job" he worked at a number of construction sites. He was always willing to go an extra mile.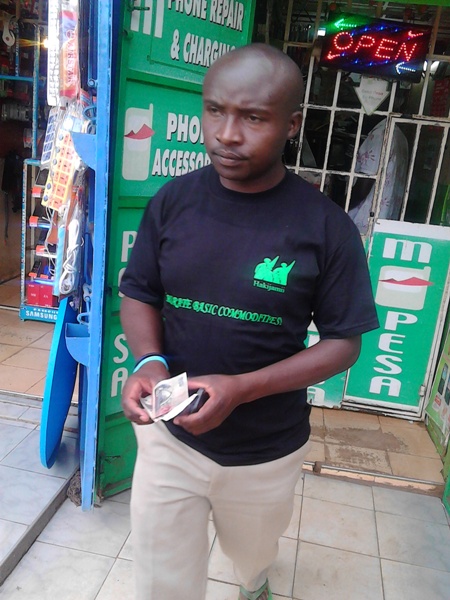 The ability of the late Osoro to make new friends and maintain old ones was legendary. He has redefined the word "friendship" for most of us. I was real amazed and impressed by the way he was able to relate with everyone without considering age, tribe, religious affiliations, height or anything else. He always related with everyone on a level ground. Our mutual friends such as Jephiter Ondari and Misiani Momanyi et cetera can attest to that. All of use referred to him as Uncle despite being of the same age as us.
A case in point, when the late Edward Osoro arrived in Nairobi on February 2015 (this was not the first time), he instantly made new friends some of whom were shocked on learning that he had passed away. He always spent his evenings with them sharing experiences and seeking for jobs connections over a bottle of beer after working hours.
His children and wife were the number one on his list of priorities. He always cared for them. He made sure he had money to pay for his kids tuition and provide meals for them while at school. Using his motorbike he always dropped them at school in the morning and pick them in the evening despite his busy schedule of serving the nation. He was always there for his family.
He cared about his relatives too. He always paid a visit to his siblings. He would fuel his motorbike and move round visiting his sisters and speak with his nephews and nieces. In his earlier years he could spend the long school holidays with them. Playing and working with the young ones.
In conclusion, may the Lord Rest your SOUL in eternal peace Mr. Edward Osoro. This is a tribute from your best friend and nephew.
Comments
comments