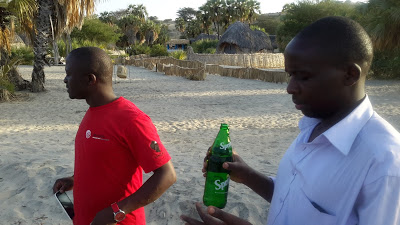 Photo: Liko and I walking along  the shore of Lake Turkana as we admire the beauty of the fresh water lake in Northern Kenya.
On Friday 19th June, 2015 I was enjoying a warm sunset at Eliye Springs Resort based on the white sand beach of lake Turkana County. 
The resort is named after the local springs. It was first established in 1981. At that time the resort was made up of a few traditional huts which served as a home away from home for travelers. 
The management of the resort on their Facebook page describes the resort as follows: 
 " This is an oasis in the desert of Turkana and an ideal place for break from pressures of life." 
I completely agree with them. After suffering from Typhoid and getting medication at the Lodwar referral Hospital I got perfect relaxation by walking along the sandy beach along Eliye Springs Resort.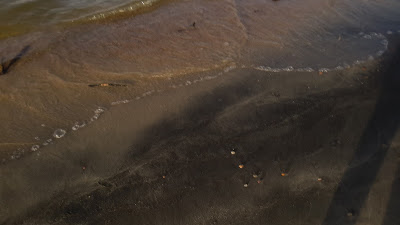 Photo 2: The beautiful beach of Lake Turkana. It was 6 pm and the evening sun was setting to the west and we approached the lake from Eliye Springs Resort
How to get to Eliye Springs?
 Eliye Springs Resort is 50 KMs from Lodwar town. The best way to reach the oasis in the largest desert lake is through hiring a taxi. I was impressed by the way our taxi driver was maneuvering through the desert to get to Eliye Springs. The most amazing thing is that there is no clear path it is all sandy. I guess a foreigner can just get lost in the dust area. 
Our local tour guide told us that its is historic for people to visit this great lake. The local residents were very happy when former president Mwai Kibaki visited the lake before retiring from presidency in 2012.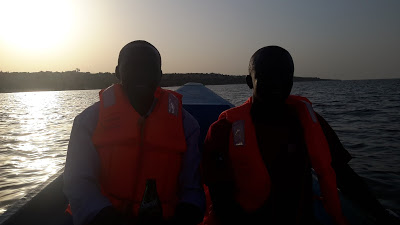 Photo 3: We could not go back to Lodwar before taking a boat ride. It was amazing riding on the speedboat.
If you are in Kitale, you will have to travel 350 Kilometers in order to reach Eliye Springs Resort. The route is: Kitale – Kapenguria – Marich Pass- Kainuk – Lokichar – Lodwar – Eliye Springs. The route is served by Eldoret Express, Fomoco and Dayah bus companies.
Having visited this important destination, I am now in a good company. A company of "travel masterminds" such as Manouk – a sassy girl from Rotterdam. She sang praises of Eliye Springs Resort in her blog bunchofbackpacker.com under the title: There where no one goes: Visit Eliye Springs Kenya.
Share with us interesting places that you have visited and how was it!
Follow us on Twitter @kerosiT
Comments
comments