Kenyatta National Hospital doctors successfully reattach an arm cut during an accident
Kenyatta National Hospital doctors successfully reattach an arm cut during an accident
By Walter Atunga
Kenyatta National Hospital (KNH) is Kenya's biggest national referral hospital located in the capital City of Kenya, Nairobi. In the recent past, it has been hit by allegations of rape and other reports of sexual harassment that was said to be done by the mortuary attendants with nursing mothers being the target. Allegations which saw human rights activists and other organizations organize street protests; Kenyatta National Hospital (KNH) staff union too came out to defend their members coupled with heated arguments in both the mainstream media and social media platforms. Investigations over the same are underway.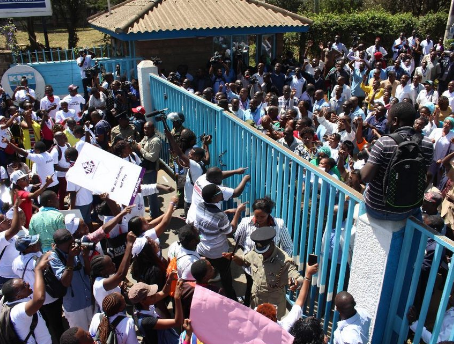 KNH medical staff replanted a cut off arm;
All that drama aside, Doctors from Kenyatta National Hospital have proved a milestone in surgery by successfully reattaching a teenager's hand that got cut during an accident at home accident. On this case, the doctors deserve credit.
Joseph Thairu, 17 years old, who comes from Thika in Kiambu County, accidently got his hand chopped off at their home by a chuff cutting machine that he was cleaning after feeding their cows. It took him almost 10 hours to get to Kenyatta hospital after the accident. Immediately, a team of doctors involving orthopaedic surgeons, surgeons, anaesthestists and nurses embarked on the delicate procedure of reattaching his arm which took them almost one and half hours before attaching it back. This was a difficult exercise since the arm had been stored in a cold box.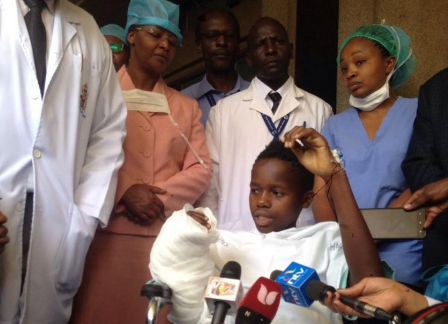 What it takes;
Doctor Ferdinand Nangole, who happened to lead the team that performed the surgery together with Professor Khainga of Nairobi University, said that they cleaned the wound, identified the key structures like blood vessels, nerves and tendons. They also had to shorten the bones before they could reattach the arm.
The Doctors had to locate arteries and reconnect them so as to allow blood flow to the arm. The arm needed to be kept alive for the procedure to work. Using microsurgical techniques, they manipulated the arteries which were fortunately large enough and reattached the arm.
The doctor's plea;
Doctors advise the public that to avoid damage to tissues and structures in the event a body part is severed, it should be placed in sealed plastic bag then be stored in ice. Ice has been known to cause frostbite, damaging the tissues. In the same manner, they shouldn't be stored in water since it too makes it difficult to reattach.
Total costs;
The cost of the entire exercise amounted to around 1.2million which was to be met by the teen's family but the National Hospital Insurance (Fund NHIF) paid a percentage of it.
Congratulations KNH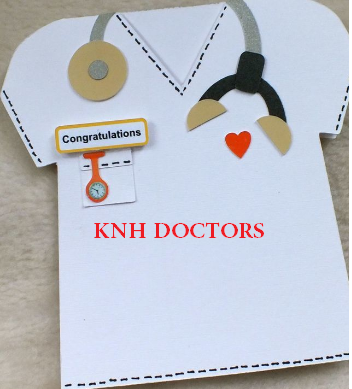 This is a great achievement in a Kenyan hospital by Kenyan doctors which should be spoken about and credit given. Kerosi dotcom team congratulates the doctors and the entire Kenyatta National Hospital fraternity.
Connect with us on:
Twitter: gkerosi @waltatunga
Facebook: Kerosi Dotcom
Subscribe: Kerosi TV
(Visited 94 times, 1 visits today)
Comments
comments